Mouser Electronics will be a major sponsor of this week's FIRST Robotics Competition Dallas Regional event occurring March 24-26 at the Irving Convention Center. The annual robotics event, which fosters STEM education, attracts hundreds of high school students from across the area.
DALLAS & FORT WORTH, Texas--(BUSINESS WIRE)--Mouser Electronics, Inc., the global authorized distributor with the newest semiconductors and electronic components, is pleased and proud to again be a major sponsor of this weeks Dallas regional competition of the FIRST® Robotics Competition (For Inspiration and Recognition of Science and Technology).

Major sponsor @MouserElec is cheering on @FRCTeams at the FIRST Robotics Dallas regional competition March 24-26!
Tweet this
Through FIRST programs, high school students partner with engineers, professors and business people to solve real-world engineering challenges. Mouser has been a major sponsor of regional and championship FIRST competitions for several years. This years regional event is set for March 24 - 26 at the Irving (Texas) Convention Center, and Mouser is once again a Captain of Innovation sponsor.
The FIRST Robotics Competition (FRC) Dallas Regional brings together teams from Texas and surrounding states, Central America and South America to compete for several awards and the opportunity to advance to the FIRST Robotics Competition Championship April 27 - 30 at the Edward Jones Dome in St. Louis, Mo., where Mouser is sponsoring the FIRST Hall of Fame with its manufacturer partners Murata and TE Connectivity.
FRC is an annual competition that challenges high school students to build 120-pound robots that complete a different task each year using a standard set of parts, plus any additional off-the-shelf or custom parts. The regional event in Irving will include students and university and corporate mentors, as well as local leaders in business, government, education and the media.
"Since our founding more than 50 years ago, we have been dedicated to inspiring young people's interest in science and technology, and we are proud to once again sponsor a program that supports the brightest young minds and future engineers," said Kevin Hess, Mousers Senior Vice President of Marketing. "We believe fostering education in science, technology, engineering and math is a large part of our mission. The FIRST Robotics Competition not only provides students with a platform for innovation and a chance to solve real engineering challenges, it is an opportunity to build character and self-esteem."
As it has in previous years, Mouser is donating electronic components to students through a partnership with the Electronic Components Industry Association (ECIA). Each FRC team receives a kit of parts, including motors, batteries, a control system, a PC, and a mix of automation components — with no instructions. Teams have six weeks to transform their kits into working robots designed to perform specific tasks.
Through the support of companies like Mouser, kits were supplied to more than 2,500 teams around the nation last year. To learn more about how Mouser supports FIRST Robotics Competition, visit http://www.mouser.com/first/.
With its broad product line and unsurpassed customer service, Mouser caters to design engineers and buyers by delivering Whats Next in advanced technologies. Mouser offers customers 21 global support locations and stocks the worlds widest selection of the latest semiconductors and electronic components for the newest design projects. Mouser Electronics website is updated many times per day and searches more than 10 million products to locate over 4 million orderable part numbers available for easy online purchase. Mouser.com also houses an industry-first interactive catalog, data sheets, supplier-specific reference designs, application notes, technical design information, and engineering tools.
About Mouser Electronics
Mouser Electronics, a subsidiary of TTI, Inc., is part of Warren Buffett's Berkshire Hathaway family of companies. Mouser is an award-winning, authorized semiconductor and electronic component distributor, focused on the rapid introduction of new products and technologies to electronic design engineers and buyers. Mouser.com features more than 4 million products online from more than 500 manufacturers. Mouser publishes multiple catalogs per year providing designers with up-to-date data on the components now available for the next generation of electronic devices. Mouser ships globally to over 500,000 customers in 170 countries from its 492,000 sq. ft. state-of-the-art facility south of Dallas, Texas. For more information, visit http://www.mouser.com.
About FIRST®
Accomplished inventor Dean Kamen founded FIRST® (For Inspiration and Recognition of Science and Technology) in 1989 to inspire an appreciation of science and technology in young people. Based in Manchester, N.H., FIRST designs accessible, innovative programs to build self-confidence, knowledge, and life skills while motivating young people to pursue opportunities in science, technology, and engineering. With support from over 200 of the Fortune 500 companies and more than $19 million in college scholarships, the not-for-profit organization hosts the FIRST® Robotics Competition (FRC® ) for students in Grades 9-12; FIRST® Tech Challenge (FTC® ) for Grades 7-12; FIRST® LEGO® League (FLL® ) for Grades 4-8; and Junior FIRST® LEGO® League (Jr.FLL®) for Grades K-3. Gracious Professionalism® is a way of doing things that encourages high-quality work, emphasizes the value of others, and respects individuals and the community.
Featured Product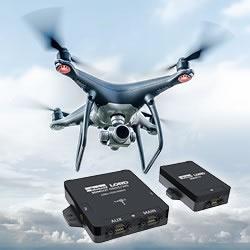 The C-series high performing inertial sensor package provides an OEM form-factor that is optimized for size and weight in Off Highway, Unmanned Ground Vehicles/Mobile Robots and Unmanned Aerial Systems. It's compact and low-profile anodized aluminum housing can be connected directly to a printed circuit board using a UART header or a Samtec FFSD ribbon cable and 2-56 fasteners.