High speed, high performance motor drives are required for applications such as printers, surveillance cameras, office automation equipment, banking terminals such as ATMs, banknote identification machines, amusement machines, and home appliances.
TOKYO--(BUSINESS WIRE)--Toshiba Corporation's (TOKYO:6502) Semiconductor & Storage Products Company today announced the launch of "TC78S122FNG," a bipolar 2-channel stepping motor driver offering a high voltage of 40V and current of 2.0A. Sample shipment starts today, with mass production scheduled to start in July 2016.

High speed, high performance motor drives are required for applications such as printers, surveillance cameras, office automation equipment, banking terminals such as ATMs, banknote identification machines, amusement machines, and home appliances. In parallel, the downsizing of equipment is being accelerated by customer demand for space-saving equipment with excellent design. Measures to reduce heat generated inside equipment and low power consumption of the overall unit are also growing in importance.
Toshibas new product has a 2-channel drive function in a two-in-one chip and is capable of running two stepping motors simultaneously. Space can be saved on circuit boards by integrating electronic components as 2-in-1 chips.
Because of the heat generated by the ICs themselves, the previous products could not achieve continuous operation in the driving current range of 2.0A motors that are used in many applications, including office equipment. The new product can simultaneously drive two channels by reducing the output resistance by 50% to cut heat generation*1.
While the regulator circuit for the IC's internal logic in the previous products was in operation at stand-by, the new product can stop the regulator at stand-by, due to incorporation of a sleep function. Consequently, power consumption of the IC is reduced.
Moreover, the new product not only drives stepping motors, it also provides interface for driving brushed DC motors. This provides various combinations of stepping motors and brushed DC motors; for example one channel of stepping motor and two channels of brushed DC motors. By enhancing its product line-up, Toshiba offers a variety of selections to meet various requirements for motor drive applications.
Main Feature of New Product
Low heat generation
Heat generation of the 2-channel simultaneous drive is reduced by low on resistance (0.6Ω or less, upper + lower).
Low vibration and low noise
High-resolution motor driving technology of 1/4 steps (max.) and decay mode switching function for constant-current control are adopted to reduce vibration and noise.
Low power consumption
A built-in sleep function by external pin control reduces the IC current consumption at stand-by.
Small package
Heat treatment of the equipment and the module can be simplified by adopting a small and high heat radiation HTSSOP package. This can contribute to downsizing the IC and reduce the cost. Toshiba also plans to release a QFN package, which is a more compact package.
Build-in error detection circuits
The new product incorporates a thermal shutdown and an overcurrent shutdown circuit. The safety and the reliability of the equipment are increased by the signals they output during equipment design.
Applications
Industrial equipment (surveillance cameras, banking terminals such as ATMs, office- and factory-automation equipment), amusement machines (pachinko and video slot machines), and home appliances (refrigerators and air conditioners)
Main Specifications of New Product
Product name TC78S122FNG
Absolute maximum ratings 40V, 2.0A
Number of drive channels Stepping motor: maximum 2 channels
Motor with DC brush: maximum 4 channels
Control I/F CLK-IN
Package HTSSOP (Size: 12.5mm × 8.1mm × 1.2mm, pin pitch: 0.5mm)
Other features - The consumption current at standby is reduced by the built-in sleep function.
- Built-in error detection function (over heat detection, and over current detection)
- Error detection signal output function (ERR output)
- Supports the power-on sequence by the single power drive
Mass production schedule July, 2016
[Note]
*1: Comparison with Toshibas previous product "TB62212."
For further information about this product, please visit:
http://toshiba.semicon-storage.com/info/lookup.jsp?pid=TC78S122FNG&region=apc&lang=en
Customer Inquiries:
Mixed Signal IC Sales and Marketing Department
Tel: +81-44-548-2821
http://toshiba.semicon-storage.com/ap-en/contact.html
* Information in this document, including product prices and specifications, content of services and contact information, is current on the date of the announcement but is subject to change without prior notice.
About Toshiba
Toshiba Corporation, a Fortune Global 500 company, channels world-class capabilities in advanced electronic and electrical product and systems into five strategic business domains: Energy & Infrastructure, Community Solutions, Healthcare Systems & Services, Electronic Devices & Components, and Lifestyles Products & Services. Guided by the principles of The Basic Commitment of the Toshiba Group, "Committed to People, Committed to the Future", Toshiba promotes global operations and is contributing to the realization of a world where generations to come can live better lives.
Founded in Tokyo in 1875, todays Toshiba is at the heart of a global network of over 580 consolidated companies employing 199,000 people worldwide, with annual sales surpassing 6.6 trillion yen (US$55 billion).
To find out more about Toshiba, visit www.toshiba.co.jp/index.htm
Featured Product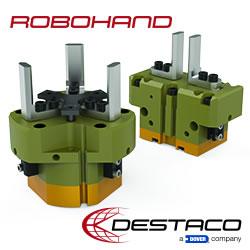 Destaco's Robohand RDH/RTH Series 2 and 3 jaw parallel grippers have a shielded design that deflects chips and other particulate for a more reliable, repeatable operation in part gripping applications ranging from the small and lightweight, to the large and heavy. RDH Series of Rugged, Multi-Purpose Parallel Grippers for Heavy Parts - Designed for high particulate application environments, automotive engine block, gantry systems, and ideal for heavy part gripping The series includes eight sizes for small lightweight to large/heavy part gripping. RTH Series of Powerful, Multi-Purpose Parallel Grippers for Heavy Parts - Designed for large round shaped parts, automotive engine block and gantry systems, and heavy part gripping. They're available in eight sizes for small lightweight to large and heavy part gripping.