DAIHEN to target wireless charging applications for the rapidly expanding industrial market
WATERTOWN, Mass.--(BUSINESS WIRE)--WiTricity, the industry pioneer in wireless power transfer over distance, today announced that Osaka, Japan-based DAIHEN Corporation, a global leader in power electronics and industrial robotics, has licensed WiTricity's magnetic resonance technology for use in wireless charging systems developed by DAIHEN for the Automatic Guided Vehicle (AGV) and electrical forklift truck market. AGVs are used to transport parts and materials throughout factories and warehouses around the world, and DAIHEN's new wireless power transfer (WPT) system for AGVs, based on WiTricity intellectual property and technology, will deliver increased productivity and automation to these essential factory and industrial automation systems.

"The industrial robotics market is primed to take advantage of wireless charging technology, and WiTricity is pleased to be working with a leader in the space like DAIHEN"
Tweet this
DAIHEN is a global leader in power electronics for industrial applications, including arc welding machine and robot, power conditioner system for mega solar power plant and RF power system for plasma etching. Leveraging its vast experience in power electronics and factory automation, DAIHEN has developed a wireless charging system for electrified AGVs and other mobile robotic systems based on WiTricity's patented technology for wireless energy transfer over distance. DAIHEN will offer wireless charging systems to AGV and mobile robotics developers on an OEM basis, as well as directly to industrial end users for custom factory automation projects.
Based on WiTricity's patented magnetic resonance technology, DAIHEN's next generation WPT system will enable a revolution in factory automation. Charging wirelessly at 3kW with similar efficiencies as wired systems, the DAIHEN AGV WPT system enables fast, automatic charging at multiple locations along an AGV's route through a factory. Conventional charging systems require an AGV to be taken out of service to be plugged in or have battery packs replaced. The DAIHEN WPT system can be retrofitted to existing AGVs, and can also be applied to other automatic systems, including mobile service robots and industrial and agricultural drones.
"DAIHEN sees wireless power transfer as a foundational technology for the factory of the future, and we expect wireless charging to be a growth engine for DAIHEN's business," said Yoshinori Tsuruda, DAIHEN general manager of WPT system development."Working with WiTricity allows us to enter the market for AGV wireless charging, while providing DAIHEN with a technology platform to bring wireless charging to a broader range of industrial applications. We envision serving the growing market for wireless charging of electric cars eventually."
"The industrial robotics market is primed to take advantage of wireless charging technology, and WiTricity is pleased to be working with a leader in the space like DAIHEN," said David Schatz, WiTricity vice president of business development. "Companies across the industry will have access to WiTricity technology in turn-key products and systems delivered by DAIHEN, a respected name in industrial power electronics and factory automation."
About DAIHEN
Since its founding in 1919, the Osaka Transformer Company (OTC) has focused on bringing the benefits of innovative technology to diverse business applications. Today, OTC DAIHEN's global activity centers on three business pillars: Power Products, Advanced Components, and Welding & Robotics. For more information about DAIHEN and it products and services, please visit www.daihen.co.jp.
About WiTricity
WiTricity Corporation provides technology to enable wireless power transfer over distance using magnetic resonance. Through deep domain expertise, semiconductor offerings, a strong IP portfolio and an extensive reference design library, WiTricity works with innovative companies to incorporate WiTricity technology in their products and solutions. With a growing list of global customers in the consumer electronics, automotive, medical devices and defense industries, the company has emerged as the leader in wireless power transfer over distance. For more information, visit www.witricity.com, or follow WiTricity on Facebook, Twitter and LinkedIn.
Featured Product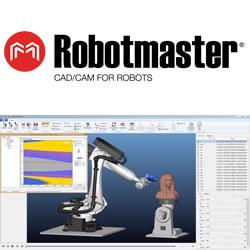 Since Robotmaster V7 uses integrated CAD/CAM functionality, for the first time, the power of Robotmaster can be used by welding, cutting and other process experts without buying or learning complex CAD/CAM software. As in past versions, Robotmaster V7 imports paths, but now makes it even easier for end users to leverage any CAD/CAM tool choice. It is an intuitive tool that anyone could use, with or without robotics expertise. It bridges the gap between robots and manufacturing by providing easy programming solutions for part manufacturing.