Yale enhances wireless asset management system
GREENVILLE, N.C. (April 7, 2016) - A clear view into operations enables data-driven decisions to optimize fleets for increased productivity, improved utilization and lower total cost of operations. At MODEX 2016 booth #3147, Yale Materials Handling Corporation promotes two features of its Yale Vision wireless asset management system. These features allow operations to connect to any cellular network, and offer the flexibility to be installed on virtually any moving warehouse asset.

"Extended connectivity and compatibility options are critical for operations to get the most out of their wireless asset management programs," says Kevin Paramore, Manager of Aftermarket Solutions for Yale. "With these features, warehouse managers can achieve the flexibility and convenience needed to optimize their fleets while grappling with modern distribution challenges."
Telemetry systems require a connection to transfer data from each piece of equipment to a central database. With the capability to connect to any cellular network, Yale Vision presents operations with the freedom to select the best option for their needs based on signal strength, IT infrastructure and other factors. Additionally, Yale Vision can be installed on virtually any moving warehouse asset. This allows operations to seamlessly integrate the management of their warehouse equipment and examine uniform data including productivity, costs and operator behavior metrics.
Featured Product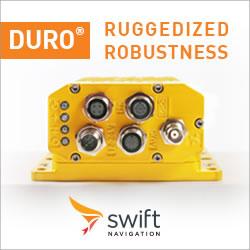 Duro® is a ruggedized version of the Piksi® Multi RTK GNSS receiver from Swift Navigation. Built to be tough, Duro is ideal for robotics applications and is designed for integration into existing equipment. This affordable, easy-to-deploy GNSS sensor is protected against weather, moisture, vibration, dust, water immersion and the unexpected that can occur in outdoor long-term deployments. Download the Duro vibration testing white paper from Swift Navigation.