eeRoots announces the crowdfunding campaign and pre-sale of eeMod, a prototyping platform that promises to greatly simplify electronic prototyping by combining the most useful sensors and modules in a single Arduino compatible integrated development platform for home automation, robotics, electronic control and other projects
Introducing eeMod, an Arduino compatible integrated development platform created by eeRoots that makes electronic prototyping simple, inexpensive and fun. Designed to be the first and last development model needed, the eeMod replaces complicated stacks of boards and wires with a simple integrated platform that contains 20 of the most useful sensors and modules for home automation, robotics, electronic control and learning to code.

"With other modules, buying sensors or add-ons and connecting wires or stacking multiple boards to include certain features in projects is a constant need. It's a messy, expensive and time consuming process.... eeRoots strives to make simple and useful products that save people time and money while keeping things fun and flexible," said Reuben Ferrante, Founder of eeRoots.
The eeMod platform is divided into two Printed Circuit Board (PCB) modules - a controller module and a sensor module - that, together, create a convenient and flexible prototyping board packed with functionality, including: Bluetooth 4.0, Wi-Fi, Infrared Sensors, Motor Control, Light Sensors, Color Sensors, Compass, Gyro, Accelerometer, SD Card slot, Power Supply and USB, all in a single module that is small enough to fit in the palm of one's hand.
Versatility is at the root of the eeMod. Its designed to be interchangeable, allowing more powerful controllers to be installed without changing the underlying sensors or power supply. It works with popular controllers as well as those offered by eeRoots. Available add-ons include a wheeled module that transforms the eeMod into a programmable mobile robot.
Realizing that programming flexibility is key to project evolution, the eeMod includes an ATmega2560 to make it Arduino compatible but it isnt limited to one programming language; depending on the controller used, the eeMod works with other languages such as C, C++ and VHDL. It is designed to grow and evolve with any project, starting with simple programming languages and adding more complex and powerful ones as needed.
The result of the eeMods clever design and open-source programming versatility is a device that makes a perfect low-cost electronic development platform for hobbyists, students, makers and professionals alike.
To begin pre-sales and offer special incentives to early adopters, eeRoots has created a crowdfunding campaign on Indiegogo beginning on April 7th. As a special thanks to supporters, eeRoots is currently offering an exciting contest to award a 100% pledge refund to a lucky winner. The campaign is now awaiting backers to support the eeMod project and their aim to make electronic prototyping easy and fun for everyone.
eeRoots, the company behind the eeMod, is a small team of friends and tech enthusiasts with big ambitions, namely to create simple, educational and fun integrated electronic products and services for anyone from student beginners to expert engineers.
Featured Product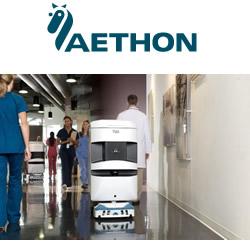 TUG automatically picks up and drops off carts, eliminating the labor that would otherwise be needed to load the robot. It also communicates with your IT system to automate the dispatching of the robot fleet and update the inventory system when materials are moved.