5th annual event to feature brightest minds and hottest technologies in the world of robotics
Newton, MA - April 14, 2016 -Sensors Expo & Conference, the nation's leading event focused exclusively on sensors and sensor-integrated systems, today announced a new partnership with Xconomys Robo Madness West, the 5th annual robotics event in Silicon Valley. The co-located event will take place on Wednesday, June 22nd at the McEnery Convention Center in San Jose CA, and feature the most innovative robotic companies in the world, explore the opportunities and pitfalls of this market, highlight emerging technologies and discuss the business models that hold the most promise for long term success. For more information and to register, please visit xconomy.com/robomadnesswest.

The three day Sensors Expo & Conference will take place June 21-23rd at the McEnery Convention Center in San Jose, CA. Pre-Conference Symposia will be held on Tuesday, June 21, and the Main Conference and Exhibit Floor will be open Wednesday, June 22 through Thursday, June 23. To register for the event, please visit: sensorsexpo.com/registration.
With the advancement of self-driving cars, delivery drones, and automated retail systems, many companies are realizing the value of distributed sensors, human-computer interaction, and machine intelligence to solve new problems in business and industry. Robo Madness West aims to offer attendees real insight into the emerging technologies poised to make a significant impact and provide a forum for industry thought leaders to present their vision for the future. Featured speakers include:
• Steve Hoover, CEO, PARC
• Brad Bogolea, CEO, Simbe Robotics
• David Bruemmer, CEO, 5D Robotics
• Steve Chambers, CEO, Jibo
• Jeremy Conrad, Founder, Lemnos Labs
• Steve Cousins, CEO, Savioke
• Chris Jones, Director of Strategic Technology Development, iRobot
• Nathan Schuett, CEO, PreNav
• Leila Takayama, Researcher, Hoku Labs
• Melonee Wise, CEO, Fetch Robotics
Sponsored by Acorn Product Development, Harmonic Drive and iRobot, the annual event features lively discussions, dynamic demos and dense networking sessions to engage the brightest minds in this industry in forward thinking discussions to advance this market. With a chance to win a Roomba, care of iRobot, attendees will gain a greater understanding of the robotics landscape as it looks today and opportunities for tomorrow.
"We are thrilled to partner with Xconomy Robo Madness to help educate and inspire the technology professionals driving the agenda in the robotics market, "said Mat Dirjish, Executive Editor, Sensors Magazine. "There was no question that Sensors Expo attendees would benefit from exposure to the agenda, speakers and onsite demos Robo Madness offers to gain a greater understanding of the state of this market and the role of sensors to catapult emerging solutions and concepts forward."
"As the longest running and most important gathering of engineers and scientists in the industry, we knew Sensors Expo & Conference was the ideal forum to present our thought provoking agenda and engage attendees in dynamic conversations around the future of robotics," said Robert Buderi, Founder and CEO of Xconomy. "We look forward to a productive event and long lasting partnership with Sensors as we continue in our mission to advance this market."
About Sensors Expo & Conference
Sensors Expo & Conference is widely known as one of the world's largest and most important gatherings of engineers and scientists involved in the development and deployment of sensor systems. For more information, visit www.sensorsexpo.com. Sensors Expo is supported by the event's official publication, Sensors Magazine, the industry's leading resource and authority on sensing, communication, and control. For more information, visit www.sensorsmag.com. Sensors Expo & Conference is produced and managed by Questex LLC, a global, diversified business-to-business integrated media and information provider, headquartered in Newton, MA. For more information, visit www.questex.com.
Featured Product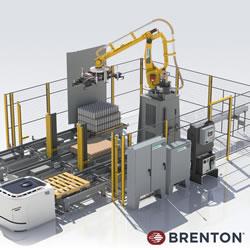 Brenton is a leader in robotic solutions with standard product offerings including palletizing and depalletizing for efficient an option for carrying hard-to-handle products, as well as larger scale systems with an optimized footprint; and case and carton loading solutions for numerous industries. In addition, Brenton works with customers on integrated solutions, offering robotics in a broad spectrum of robotics to fully integrate end of line systems. Brenton helps packaging customers protect their reputation and grow the trust of their consumers.