The largest 4-day robotics competition begins this week with teams from 37 nations in Louisville, Kentucky on April 20-23, 2016!
GREENVILLE, Texas, April 18, 2016 /PRNewswire/ -- VEX Worlds 2016 kicks off this week! Presented by the Robotics Education and Competition (REC) Foundation and the Northrop Grumman Foundation, this culminating event brings together the top 1,000 teams from around the world in one city and under one roof for one incredible celebration of robotics engineering, featuring the world's largest and fastest growing international robotics programs - the VEX IQ Challenge, the VEX Robotics Competition and VEX U. On April 20-23, at the Kentucky Exposition Center in Louisville, Ky., over 16,000 participants from 37 nations will come together to put their engineering expertise to the test as they seek to be crowned the Champions of VEX Worlds.

Annually, the REC Foundation presents a series of robotics engineering programs that engage students from elementary school through college in classrooms and at after-school competitions around the world in hands-on technology challenges that build their interest in science, technology, engineering and mathematics (STEM). Students around the globe have spent countless hours designing, building, programming and competing at more than 1,350 local, state, and regional competition events. Of the 16,000 VEX teams, the best 1,000 teams qualified to advance to Louisville, Kentucky to strategize and challenge each other playing the current 2015-2016 season games: VEX IQ Challenge Bank Shot and VEX Robotics Competition Nothing But Net.
"It's thrilling to see students from around the world ranging from elementary school through college gathered in one city and at one venue to celebrate their accomplishments and compete with their student-engineered robots," said Jason Morrella, president of the REC Foundation. "These VEX programs continue to grow at an amazing rate, demonstrating our ability to provide students with a hands-on robotics engineering experience that is both challenging and sustainable to foster their interest in STEM and set them on a course to become our future problem-solvers and visionaries."
At the close of VEX Worlds 2016 on Saturday, April 23, teams will be invited to Kentucky Kingdom, a stunning amusement park just steps from the venue, for a private party featuring new rides, themed attractions, and plenty of dining options!
VEX Worlds is FREE and open to the public with fun activities for the whole family! Spectators are welcome and encouraged to watch matches, attend ceremonies, and visit with teams in the pit area as they strategize and prepare their robots for competition.
Sponsors of VEX Worlds 2016 include the Northrop Grumman Foundation, Autodesk, Chevron, EMC Corporation, Harris Corporation, NASA, Texas Instruments, HEXBUG, Rack Solutions and Innovation First International.
Fans can follow the competition and sign up for real-time competition news and results via live webcasts, Facebook, Twitter, Instagram, Snapchat and YouTube updates. Real time tournament results are also available through "VEX via" - an iPhone and Android compatible app, which provides match schedules, rankings and scores. For more information visit RoboticsEducation.org/VEXworlds.
About the Robotics Education & Competition Foundation
The REC Foundation seeks to increase student interest and involvement in science, technology, engineering and mathematics (STEM) by engaging students in hands-on, sustainable and affordable curriculum-based robotics engineering programs across the U.S. and internationally. The REC Foundation develops partnerships with K-12 education, higher education, government, industry, and the non-profit community to achieve this work. For more information, please visit www.RoboticsEducation.org or for details on upcoming events, please visit www.RobotEvents.com.
Featured Product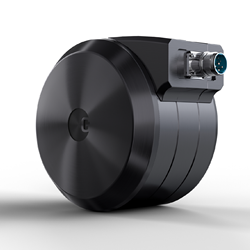 Welcome to the next generation of robotics and machinery. LiveDrive LDD is a unique direct drive motor that overcomes almost every limitation of servo geared solutions. A 50% reduction in length from typical geared motor is possible with Genesis direct drive motors. Choose to simplify machine designs and have a shorter footprint while having high performance, accuracy, and efficiency.