The pioneer in grippers is now offering its customers a pneumatic parallel gripper in the form of the GPP1000 series.
Zimmer Group has further expanded its product range to include cost-effective yet robust automation components. The pioneer in grippers is now offering its customers a pneumatic parallel gripper in the form of the GPP1000 series. This gripper makes profitable production possible thanks to its remarkably low price, which is a dream come true for many customers.

The new gripper series GPP1000s unbeatably affordable price not only makes exceptionally cost-effective production a reality but also offers 100N gripping force in three different strokes (4 mm, 8 mm, 16 mm) per gripper jaw. This single-acting gripper is supplied for use as an external gripper, for pressure-free opening using reset spring. A few simple manual adjustments are all that is needed to convert this gripper so that its jaws are closed when not under pressure. This means the gripper can also be used as an internal gripper.
Each gripper has two grooves for holding the magnetic field sensors used to sense the gripper's position. The grippers are supplied with a glasfiber reinforced gripper jaw set and the material required to attach them. However, customer-specific gripper jaws can be installed at any time.
To make it easier for its customers to select the best product, Zimmer Group has divided its product portfolio into application profiles. The GPP1000 belongs to the AP1 base class, whose products are designed to handle all the essential tasks with a special emphasis on cost-effectiveness.
Despite its very reasonable price, the GPP1000 offers the same tried-and-tested quality you expect from all Zimmer Group products. With the ability to run for up to 2 million cycles without maintenance, it meets all the requirements for reliable, cost-effective production!
Featured Product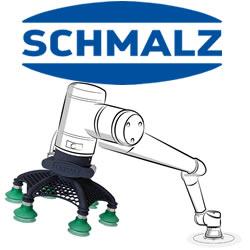 In order to interact with their environment and perform the tasks, lightweight robots, like all industrial robots, depend on tools - and in many cases these are vacuum grippers. These form the interface to the workpiece and are therefore a decisive part of the overall system. With their help, the robots can pick up, move, position, process, sort, stack and deposit a wide variety of goods and components. Vacuum gripping systems allow particularly gentle handling of workpieces, a compact and space-saving system design and gripping from above. Precisely because the object does not have to be gripped, the vacuum suction cupenables gapless positioning next to each other.