Comet Labs Closes 10 Investments within Six Months
SAN FRANCISCO, April 26, 2016 /PRNewswire/ -- Early-stage venture capital firm Comet Labs has announced today investments in ten robotics and artificial intelligence startups: IoT payments platform DotDashPay, commercial drone system PRENAV and robotic mobility innovator Transcend Robotics, as well as seven stealth startups.

In addition to making investments, Comet Labs actively supports its portfolio companies and enables accelerated growth. The startups in the Comet Labs portfolio are also actively encouraged to share knowledge and help each other overcome common challenges.
Comet Labs has assembled a coalition of investors and corporate partners to help accelerate product and customer development cycles for fast growing robotics and machine learning companies. Startups are paired with experienced mentors and are given access to industry partners and platform technology. The fund's partners include the world's largest global manufacturing, agriculture, and healthcare companies.
These 10 investments join an already strong portfolio of companies, which include the following:
smart home equipment provider Roost,
3D depth capture system Alces Technology,
airspace information startup Airmap,
global asset tracking solution WEFT,
transportation drone Matternet,
radar sensor developer Oculii,
facial recognition company Megvii (Face++).
About Comet Labs
Comet Labs is an early-stage venture capital firm associated with a $300M fund, Legend Star. They work with startups developing solutions in specific industry verticals, as well as those building enabling technologies. Comet Labs has a global portfolio, with offices and lab space in San Francisco and Beijing. Through this network, Comet Labs supplies industry with access to new technology solutions and trajectories for the future.
About DotDashPay
DotDashPay is an IoT payments technology platform that connects machines to the future of commerce. With a little bit of hardware and a few lines of code, machine builders can easily enable nearly any machine to accept credit cards, mobile wallets, Bitcoin, and more. DotDashPay's technology powers machine-based payments in retail, petrol stations, quick service restaurants, and other innovative self-service environments. Dot Dash Pay is based in San Francisco, California.
About PRENAV
PRENAV is developing automated commercial drones that are guided by computer vision. Navigating along pre-defined flight paths, PRENAV drones are able to safely fly in complicated, cluttered or GPS-denied environments with a high degree of precision and repeatability. The initial application of the technology is the inspection of infrastructure like cell phone towers, wind turbines, flare stacks and oil tankers. The company is based in San Carlos, California.
About Transcend Robotics
Transcend is an innovator in ground-based robotic mobility. Their patented articulated traction control technology, called ARTI, enables a new generation of robots to climb stairs and traverse obstacles without extensive AI software or a skilled operator. Customers include companies in telepresence, oil & gas, mining, construction, manufacturing, military, industrial and healthcare. Transcend Robotics is based in Washington, D.C.
Featured Product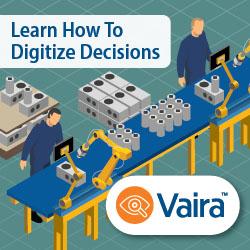 Pleora's Visual Inspection System helps operators detect errors and defects for unique component types, assembly steps, and custom low-run products where automated optical inspection (AOI) is too complex and expensive. The system helps DICA Electronics: Avoid costly, errors as a result of detecting errors at different phases in production, Speed time in detecting the root cause of the in-field errors with Tracking & Reporting apps for traceability, Maintain consistency in training new employees on requirements or with staff any time a new product is added, Easily train the system using 'good product' images for multiple product lines with no programming skills required, Reduce subjective decision-making, especially over a long shift, reducing error-escapes.