RobotShop and AutoPets Announce Distribution Exclusivity for Litter-Robot Products in Europe.
RobotShop.com, the worlds leading robot store for all your robotic needs, announces today that it has partnered with Automated Pet Care Products, Inc., DBA AutoPets. AutoPets is the maker of Litter-Robot, the automatic self-cleaning litter box. RobotShop is now the exclusive distributor of the Litter-Robot for the European Union.

Since 2006, RobotShop has been selling the popular Litter-Robot II, and will now offer the Litter-Robot III Open Air, released Summer 2015. It has proven to be an incomparable product that has helped customers care for their cats across thousands of homes worldwide.
"RobotShop has demonstrated a strong commitment to the Litter-Robot brand," states Brad Baxter, Founder and President of AutoPets. "We are looking forward to growing the European market with them."
As of April 29th, 2016, all AutoPets resellers of the Litter-Robot in Europe will process their orders through RobotShop. Located in France, RobotShop will be able to provide Litter-Robot resellers and customers across Europe with centralized access to Litter-Robot products, logistics, and customer support. RobotShops technical center will support all service requests during and after the manufacturers warranty.
Reseller partners will benefit from the optimized pricing through RobotShops dealer program. Resellers will have the option to stock product at their facilities or drop-ship through RobotShop.
The Litter-Robot Open Air is an automatic, self-cleaning litter box. Its unique design senses when a cat is inside and when its time to clean up. Once the cat exits, a cleaning cycle will begin automatically. The patented sifting process separates the clumps from the clean litter and deposits them into a carbon-filtered drawer below, reducing unpleasant odors and leaving a clean bed of litter every time.
"I have been a proud owner of a Litter-Robot self-cleaning litter box for more than 6 years and would never think of going back to a standard litter box," says Julie Gendron, VP Consumer Robots Division at RobotShop. "We are excited to continue our growing partnership with AutoPets and expand the network of Litter-Robot resellers in Europe."
About AutoPets :
Established in 1999, AutoPets is based in Auburn Hills, Michigan and is dedicated to the design and manufacture of highly functional, easy-to-use products that make caring for your pet more enjoyable. For more information about the Litter-Robot, visit www.litter-robot.com.
About RobotShop Inc.:
RobotShop is the world's leading robot store for personal and professional robot technology. It provides personal, domestic, and professional robots, development platforms, kits, and specialized robotic parts. RobotShop is also an important source for robotics education and research. For more information, visit www.robotshop.com.
Featured Product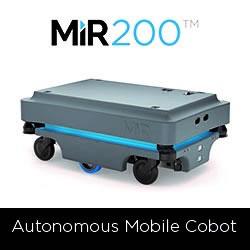 MiR200 is a safe, cost-effective mobile robot that automates your internal transportation. The robot optimizes workflows, freeing staff resources so you can increase productivity and reduce costs. MiR200 safely maneuvers around people and obstacles, through doorways and in and out of lifts. You can download CAD files of the building directly to the robot, or program it with the simple, web-based interface that requires no prior programming experience. With its fast implementation, the robots offers a fast ROI, with payback in as little as a year.