Leka Brings Accessible Teaching Tool to Parents, Therapists and Caregivers of Children with Developmental Disorders, Such as Autism and Down Syndrome
KANSAS CITY—May 3, 2016—Leka, a robotic smart toy set on changing the way children with developmental disorders learn, play and progress, today announced the launch of its Indiegogo campaign to raise $60,000 for product development. Unlike other robotic toys designed to help children with developmental disorders, Leka is the first interactive tool that will be available for purchase directly to parents, therapists and caregivers online at an affordable price point.

"Our mission is to help exceptional children live exceptional lives by reducing the learning inequalities that many children with different developmental disorders currently deal with," said Ladislas de Toldi, co-founder and CEO. "While there has been a lot of innovation regarding smart toys that can aid in cognitive development, none of these toys are available for public use and cost anywhere from $3,000 to $10,000. With Leka, there is finally a resource for parents who want to complement existing therapies and further foster family harmony between children and their parents, siblings and grandparents through play both at school and in-home."
Leka spent two years in development using an evidence-based approach, validating its progress through testing and the scientific community. A robotic smart toy that becomes a childs companion and friend, Leka offers children the ability to play fun, educational games engaging their motor, cognitive and emotional skills. As robots have the ability to be predictable in their actions - an important trait for children with developmental disorders - Leka is able to give users a sense of safety. Coupled with this predictability and Lekas capability to stimulate a childs senses, Leka can socially engage children and nurture greater, more efficient progress.
Through Lekas mobile app (available on both iOS and Android phones and tablets), the toy is controlled via Bluetooth connectivity. Once paired, users can control Leka through two separate modes: manually control Lekas movements and actions or access autonomous applications that engage children across multiple disciplines. When shipped in early 2017, Leka will include seven educational activities allowing children to play while also reinforcing social and cognitive learning: Picture Bingo, Hide & Go Leka, Traveling Leka, Remote Control Leka, Time-Timer, Alarm Clock and Night Light. During the Indiegogo campaign, Leka will feature three of the initial seven applications:
• Picture Bingo: When playing Picture Bingo, Lekas screen will randomly display a picture of an object and request that the child brings the object to Leka. Paired with RFID tags, Leka senses when a child returns with the displayed object and reacts positively to reward the child for completing the task. This game engages and develops fine motor skills, space-time orientation, attention and interaction. A timer can also be added to the game, encouraging children to complete daily tasks such as brushing their teeth.
• Traveling Leka: When playing Traveling Leka, parents will place color patches, enabled with RFID tags, around the room. Leka will spin around, stop its attention on the child and light up a certain color. The child must then place Leka on the patch with the matching color to complete the task. Once the child finds the patch with the coordinating color, Leka will provide motivating feedback by laughing or lighting up.
• Hide & Go Leka: To play Hide & Go Leka, a caregiver, parent or sibling will hide Leka for the child to find. In order to find Leka, the child will follow sounds and vibrations that Leka gives off. When the child finds Leka, the robot will open its eyes and make sounds, lights and vibrations, or change its expression.
Leka will also include a cloud-based Monitoring Platform at launch. Equipped with sensors that record how a child is interacting with Leka, information is automatically uploaded to the platform so that parents, therapists and caregivers have the ability to track a childs individual progress. The platform tracks how children touch and manipulate the device, the time they spend on activities, and reaction time to instructions. From this shared interface parents, therapists, and caregivers can also communicate, including assigning homework and sharing notes on a childs use and progress.
"What is so exciting about Leka is that it will allow for greater progress when children are not in a therapists care, especially with the use of the monitoring platform and the data it captures," said Tiffany Plock, therapist at ABA Connect, an early intervention service provider for children with or at risk for autism. "Children with autism, for example, generally play best alone, and through Leka we can use it as an intermediary to teach through play while also tracking progress remotely. I see this tool as becoming instrumental in a childs growth to allow the best of both worlds—therapy with professionals as well as in-home support."
By supporting the Indiegogo campaign, backers can pre-order Leka for $490, with a $100 discount for a limited number of Indiegogo customers ($390). Leka will ship to backers in early 2017.
About Leka
Leka is a robotic smart toy set on changing the way children with developmental disorders learn, play and progress. Available for direct purchase online, Leka is an interactive tool designed to make communication between therapists, parents and children easier, more efficient and more accessible. Working with and adapting to each childs own needs and abilities, Leka is able to provide vital feedback to parents and therapists on a childs progress and growth.
Founded in France with more than two years in R&D and currently enrolled in the 2016 Sprint Accelerators TechStars program, Leka will be first available for purchase by consumers on Indiegogo in April 2016.
For more information, please visit www.leka.io
Featured Product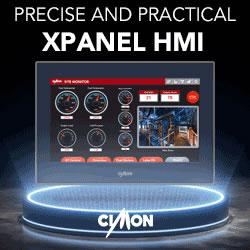 CIMON-XPANEL is a Windows CE based HMI unit. A combination of software and hardware, suitable for various monitoring needs within industrial sites.