RE2s dual-arm manipulation system improves EOD robot capabilities
PITTSBURGH, PA - RE2 Robotics announced today that it has delivered a two-arm Highly Dexterous Manipulation System (HDMS) to the U.S. Armys Armament Research, Development and Engineering Center (ARDEC) under an Army Small Business Innovation Research (SBIR) Phase II extension contract.

Robotic systems for explosive ordnance disposal (EOD) typically include a single manipulator to perform critical tasks such as inspection, detection, and neutralization of explosive devices. These manipulators are often limited in their dexterity, reach and lifting capacity.
The dual-arm HDMS technology provides the robot operator with capabilities that far exceed currently fielded single-manipulator robots. The new HDMS is more rugged, ergonomic, and intuitive to control. Two arms allow operators to perform complex tasks, such as securing an object with one arm and manipulating with the other. In addition to EOD, the HDMS may eventually be used for other missions, such as Combat Engineering and Chemical, Biological, Radiological, Nuclear, Explosives (CBRNE) operations.
"The direct benefit of the HDMS technology to Army personnel is significantly increased performance and capability over currently fielded manipulators for both tele-operated and semi-autonomous use on mobile robot platforms," stated Jorgen Pedersen, president and CEO of RE2 Robotics. "These manipulation improvements directly correlate to a reduction in time-on-target and overall mission time, resulting in increased safety for all mission personnel."
About RE2 Robotics
RE2 Robotics is developing the next generation of robotic manipulator arms that enable robots to better interact with the world - whether on the ground, in the air, or underwater. For more information, please visit www.resquared.com or call 412.681.6382.
Featured Product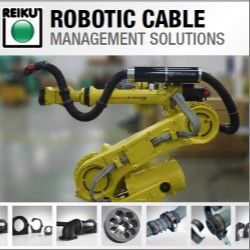 REIKU's Cable Saver™ Solution eliminates downtime, loss of revenue, expensive cable and hose replacement costs, maintenance labor costs. It's available in three sizes 36, 52 and 70 mm. All of the robots cables and hoses are protected when routed through the Cable Saver™ corrugated tubing.The Cable Saver™ uses a spring retraction system housed inside the Energy Tube™ to keep this service loop out of harms way in safe location at the rear of the Robot when not required. The Cable Saver™ is a COMPLETE solution for any make or model of robot. It installs quickly-on either side of the robot and has been tested to resist over 15 million repetitive cycles. REIKU is committed to providing the most modular, effective options for ensuring your robotic components operate without downtime due to cable management. www.CableSaver.com