RE2's dual-arm manipulation system improves EOD robot capabilities
PITTSBURGH, PA - RE2 Robotics announced today that it has delivered a two-arm Highly Dexterous Manipulation System (HDMS) to the U.S. Army's Armament Research, Development and Engineering Center (ARDEC) under an Army Small Business Innovation Research (SBIR) Phase II extension contract.

Robotic systems for explosive ordnance disposal (EOD) typically include a single manipulator to perform critical tasks such as inspection, detection, and neutralization of explosive devices. These manipulators are often limited in their dexterity, reach and lifting capacity.
The dual-arm HDMS technology provides the robot operator with capabilities that far exceed currently fielded single-manipulator robots. The new HDMS is more rugged, ergonomic, and intuitive to control. Two arms allow operators to perform complex tasks, such as securing an object with one arm and manipulating with the other. In addition to EOD, the HDMS may eventually be used for other missions, such as Combat Engineering and Chemical, Biological, Radiological, Nuclear, Explosives (CBRNE) operations.
"The direct benefit of the HDMS technology to Army personnel is significantly increased performance and capability over currently fielded manipulators for both tele-operated and semi-autonomous use on mobile robot platforms," stated Jorgen Pedersen, president and CEO of RE2 Robotics. "These manipulation improvements directly correlate to a reduction in time-on-target and overall mission time, resulting in increased safety for all mission personnel."
About RE2 Robotics
RE2 Robotics is developing the next generation of robotic manipulator arms that enable robots to better interact with the world - whether on the ground, in the air, or underwater. For more information, please visit www.resquared.com or call 412.681.6382.
Featured Product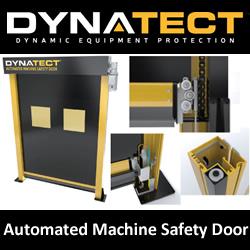 Dynatect's Gortite VF (Vertical Fabric) Automated Machine Safety Door is intended for automation and safe machine access to minimize cycle time and maximize production time. The automated roll-up door separates machines with hazardous operations from other processes, material handling equipment, and people. The Gortite VF Door contains typical machine/process generated hazards including light debris, fluid splatter/mist, and weld smoke/sparks/flash.