Airborne sensor and analytics technology leader launches efficiency-doubling package at XPONENTIAL
SAN DIEGO--(BUSINESS WIRE)--SLANTRANGE, pioneers of a smarter approach to aerial remote sensing and analytics for agriculture, today announced the launch of a new product line that will allow growers and agronomists to obtain and process data faster and more efficiently. The two new sensors, SL2i and SL2p, as well as a new version of SLANTVIEW, the companys proprietary data analytics software, together have four patents pending and will more than double the resolution, data collection rate, and processing efficiency over the prior generation. This will enable customers to cover twice as much area in a flight as the previous generation technology did - and four times as much as conventional multispectral mapping techniques.

"We work closely with our customers to understand the problems they are facing on the ground," said Mike Ritter, CEO of SLANTRANGE. "One of the biggest concerns we hear is the race against the clock. Drone battery life limits flight time and affects how efficiently farmers can collect data. We have optimized our new products to maximize the area that can be imaged within a flight to help farmers gain more insights faster, and at a lower cost."
The new version of the analytics software, SLANTVIEW, will offer even faster data processing, typically less than five minutes for a 160-acre field, and new data products, including plant population counts, yield potential, and canopy closure. With the new user interface, customers will more easily access data and streamline their workflow according to individual preferences. The software is tightly integrated with the sensors, which are available in two versions. SL2i is the suggested product for entry-level users while SL2p will offer full multispectral performance for more advanced users.
SLANTRANGE is launching the products at XPONENTIAL, the leading exhibition for the unmanned systems market. The company will be offering demos of the new product line at exhibition booth #1722.
About SLANTRANGE
SLANTRANGE has pioneered a smarter approach to agricultural intelligence by delivering new layers of information for more control and predictability over agricultural land and more efficient use of resources. The company designs, manufactures and markets sensors and analytics systems for drone aircraft. SLANTRANGE systems are deployed around the world, helping to reduce operational costs and accelerate better decision-making. To learn more, please visit slantrange.com.
Featured Product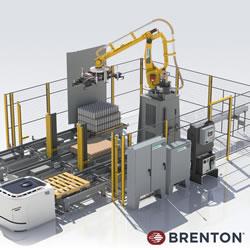 Brenton is a leader in robotic solutions with standard product offerings including palletizing and depalletizing for efficient an option for carrying hard-to-handle products, as well as larger scale systems with an optimized footprint; and case and carton loading solutions for numerous industries. In addition, Brenton works with customers on integrated solutions, offering robotics in a broad spectrum of robotics to fully integrate end of line systems. Brenton helps packaging customers protect their reputation and grow the trust of their consumers.