Walabot SDK gives creators worldwide the ability to create content designed to track people or things, see through walls, monitor breathing, and much more
SAN FRANCISCO, May 11, 2016 /PRNewswire/ -- Vayyar (http://vayyar.com), the 3D imaging company whose technology allows you to see through objects, liquids, and materials, today announced it has shipped the Software Development Kit (SDK) for its consumer product, Walabot. Utilizing powerful 3D imaging and sensing technology, Walabot can uncover things hidden within the world by simply attaching to the back of one's smartphone. Developers who use the Walabot SDK can access four powerful APIs, which will give them the ability to track targets, see through walls, and monitor breathing, along with out-putting raw sensor data. Applications created with the SDK can be used across Windows and Android-based platforms. Check out a video of Walabot's many capabilities here.

"We've always known how powerful our 3D imaging sensor technology can be, and now it's time to put it to the test and get it into the hands of developers. It's an exciting time, and we're confident that the four powerful APIs we've created to date will unleash a flurry of creative genius from all over the world," said Raviv Melamed, CEO and co-founder of Vayyar Imaging. "Our SDK program is designed to work in close collaboration with developers and makers by soliciting feedback and providing support throughout the process. We're looking forward to their feedback, suggestions, and even bug reports as we continue to support the evolving Walabot community."
Walabot's sensors uncover things hidden within the world through powerful 3D imaging and sensing technology. The powerful, pocket-sized device provides cutting-edge Radio Frequency (RF) technology for 3D sensing and image processing, which enables developers to create sophisticated applications. Compatible with select Android devices, Walabot's sensor magnetically connect to the back of one's smartphone and can see through known barriers such as walls, cement and other materials, or monitor breathing and detect falling to create a Smart Home, and much more.
Content from the SDK program will be available when Walabot ships globally this summer. The Walabot consumer product will range in price from $149 to $599 USD and will feature applications for Smart Home, robotics, health monitoring, 3D imaging and more.
Access the Walabot Press Kit here or visit www.walabot.com for more details.
About Vayyar
Vayyar Imaging, the parent company of consumer product Walabot, is changing the imaging and sensing market with its breakthrough 3D imaging technology. Vayyar's exclusive sensors quickly and easily look into objects, analyze the makeup of materials & track changes and movements - bringing highly sophisticated imaging capabilities to your fingertips. Our goal is to help people worldwide improve their health, safety, and quality of life using mobile, low-cost, and safe 3D imaging sensors.  
Located in Israel, Vayyar Imaging is a privately held company backed by Walden Riverwood, Battery Ventures, Bessemer Venture Partners, Israel Cleantech Ventures (ICV) and Amiti Ventures. Follow @VayyarInc and @Walabot on Twitter, like us on Facebook, subscribe to Walabot's YouTube channel or learn more at http://vayyar.com.
Featured Product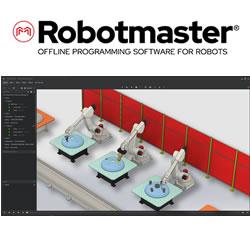 Since Robotmaster V7 uses integrated CAD/CAM functionality, for the first time, the power of Robotmaster can be used by welding, cutting and other process experts without buying or learning complex CAD/CAM software. As in past versions, Robotmaster V7 imports paths, but now makes it even easier for end users to leverage any CAD/CAM tool choice. It is an intuitive tool that anyone could use, with or without robotics expertise. It bridges the gap between robots and manufacturing by providing easy programming solutions for part manufacturing.