Researchers at the University of Sheffield have created an aquatic robot which could be used to inspect otherwise inaccessible pipe networks to deal with blockages.
Researchers at the University of Sheffield have created an aquatic robot which could be used to inspect otherwise inaccessible pipe networks to deal with blockages.

The researchers will reveal their findings later this week at the International Conference on Robotics and Automation (ICRA 2016) - the world's largest gathering in robotics, held this year in Stockholm, Sweden.
The study looks at a set of robotic modules that, similar to Lego, can be assembled into robots of arbitrary shape. This allows robots to be customised to meet the changing demands of their task.
Each module is a cube and has four micro pumps which allow it to move around independently in the water. When modules are joined together, they can draw in fluid from each other, as well as the environment. The routing of the fluid through the network of modules causes the robot to move. The more modules in the network, the more precisely the robot moves, and the better it copes with faults. This new concept is termed Modular Hydraulic Propulsion (MHP). Six prototype modules of an MHP robot were constructed, which float on the surface of water.
The researchers set the robot a task - to detect and move towards a light source. The robots can solve this task reliably without having a central brain. Rather, each module makes its own decisions independently, and only needs a single byte of sensor information to do so.
Dr Roderich Gross, from the Department of Automatic Control and Systems Engineering, who is leading the team, said: "One of the challenges in robotics is to make robots small enough so that they can travel through confined spaces that are otherwise inaccessible. Shrinking robots down, potentially to sub-millimetre scale, puts severe constraints on the hardware and therefore how much information these robots can process."
Modular Hydraulic Propulsion could offer new solutions to problems requiring reconfigurable systems to move precisely in 3D confined spaces, such as the inspection of underground water pipes. In the future, miniaturised versions of MHP robots may even enter the vascular network to monitor the health of patients or deliver drugs in a targeted manner.
Matthew Doyle, a PhD student from the Department of Automatic Control and Systems Engineering who has been working on the project, said: "One potential use for a robot like this is during search and rescue operations in an underwater environment. You may not know the situation in advance, and the robot will have to adapt to whatever it faces.
"The modules could split up and search for survivors more quickly and recombine to lift a heavy object and open up a passageway.
"This type of robot could also be used by utility companies wanting to deal with blockages or faults in pipes that are difficult and expensive to access from the surface."
The research was funded by an EPSRC grant. Scientists are now hoping for additional funding to develop the research further and look at how smaller versions of the modules could travel through 3D confined spaces and solve problems of increasing complexity.
The paper Modular Hydraulic Propulsion: A Robot that Moves by Routing Fluid Through Itself will be published in the Proceedings of the 2016 IEEE International Conference on Robotics and Automation, IEEE Press.
The University of Sheffield
With almost 27,000 of the brightest students from over 140 countries, learning alongside over 1,200 of the best academics from across the globe, the University of Sheffield is one of the worlds leading universities.
A member of the UKs prestigious Russell Group of leading research-led institutions, Sheffield offers world-class teaching and research excellence across a wide range of disciplines.
Unified by the power of discovery and understanding, staff and students at the university are committed to finding new ways to transform the world we live in.
Sheffield is the only university to feature in The Sunday Times 100 Best Not-For-Profit Organisations to Work For 2016 and was voted number one university in the UK for Student Satisfaction by Times Higher Education in 2014. In the last decade it has won four Queens Anniversary Prizes in recognition of the outstanding contribution to the United Kingdoms intellectual, economic, cultural and social life.
Sheffield has five Nobel Prize winners among former staff and students and its alumni go on to hold positions of great responsibility and influence all over the world, making significant contributions in their chosen fields. Global research partners and clients include Boeing, Rolls-Royce, Unilever, AstraZeneca, Glaxo SmithKline, Siemens and Airbus, as well as many UK and overseas government agencies and charitable foundations.
To read other news releases about the University of Sheffield, visit http://www.sheffield.ac.uk/news
Featured Product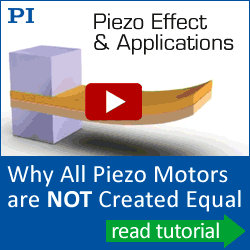 Tested to perform 100 billion cycles by NASA for the Mars mission, piezo actuators efficiently convert electrical energy into mechanical energy. If your application requires any combination of these parameters, you should be using piezo motion: • Fast response • High precision • High force • Long life • Maintenance and lubricants free • Compact dimensions • Non-magnetic, UHV compatible Piezo drives provide the best combination of stability, accuracy, responsiveness, and resolution. Brush up on piezo basics for precision motion, force generation, and nanopositioning applications. Learn more in the piezo tutorial