Makeblock Makes DIY & STEM Educational Robots More Diverse & Accessible for Everyone
Makeblock (Shenzhen Maker Works Technology Co., Ltd), a leading DIY robotics construction platform founded in 2012, was largely recognized as "Lego for adults" after first launched its robot kits on Kickstarter. This year, together with its new cutting-edge technology, 5 DIY, STEM educational and new consumer products on display, including mBot Ranger, Ultimate Robot Kit 2.0, mGiraffe 3D Printer, MegaPi and Codeybot, Makeblock will introduce its "DIY Robotics for Makers & Stem Learners" concept at Maker Faire Bay Area 2016 from May. 20-22.

The "DIY Robotics for Makers & Stem Learners "concept demonstrates Makeblock's company slogan "Construct your dream " with comprehensive robot kits as well as mechanical parts, Arduino-compatible electronics, software. Makeblock provides the mentality a beginner needs to be integrated into the environments of daily life, from maker space to their home to classroom to their lab for prototyping. Makeblock is suitable for users ranging from beginners to experts to turn their ideas into working robots.
"Makeblock is really happy that the market acknowledges its impact in the maker/DIYer community. To continue this exciting journey of making DIY robotics friendly to anyone, We now expand our market scope to cover more diverse products for makers and STEM learners of all ages," says the founder, CEO of Makeblock and robot hobbyist Jasen Wang. "We are excited to spread our vision globally. Makeblock is here to enrich the soil of creativity for the makers and to make STEM accessible to all."
After the wild success of Makeblock's educational robot kit series targeting makers and educators, the Shenzhen-based hardware startup recently expanded its reach and broadened its portfolio of products to serve maker, STEM and consumer markets in more verticals. Now Makeblock's customer base comprises an esteemed group of individual makers, engineers, designers, educators, schools, and hobbyists in over 69 countries with major distributors like Radioshack®, Maplin® and Barnes & Noble® around the globe, contributing a revenue rise from 0 to 6 million dollars in but two years.
Visit Makeblock's Booth at Maker Faire Bay Area
Visitors at Makeblock's booth (Zone 2, Expo Hall, San Mateo County Event Center) will experience how Makeblock's selected spectrum of affordable, educational, DIY robot kits and ready- to-play robot toy products, including mBot 1.1, mBot Ranger, Ultimate Robot Kit 2.0, mGiraffe 3D Printer, MegaPi and Codeybot will inspire and empower its users to think, create, program and construct their dreams.
About Makeblock
Founded in 2012, Shenzhen Maker Works Technology Co., Ltd (Makeblock) is a leading DIY robotics construction platform that helps turn ideas into reality for makers and STEM learners. Makeblock provides various mechanical parts, electronic modules and software to make them possible, such as beams, plates, connectors, motors, brackets, sensors, drivers and controllers and more. Having launched mDrawbot, mBot, mElephant 3D Printer, XY Plotter, mBot Ranger and Ultimate Robot Kit, Makeblock is becoming one of the best open-source robotics companies to make a difference.
For more information, follow @Makeblock on Facebook or visit http://www.makeblock.com
About Maker Faire
Maker Faire is the Greatest Show (and Tell) on Earth-a family-friendly showcase of invention, creativity, and resourcefulness, and celebration of the Maker Movement. It's a place where people of all ages and backgrounds gather together to show what they are making and share what they are learning.
Maker Faire has celebrated 150 Faires in 2015 alone and has engaged more than 1.2 million attendees globally in over 30 countries around the world. The 10th annual Maker Faire Bay Area welcomed some 1,200 Makers and 145,000 attendees. World Maker Faire New York, the East Coast flagship event, has grown in five years to 930+ Makers and 95,000 attendees.
Located in San Francisco, California, Maker Media has been widely credited with jumpstarting the worldwide Maker Movement, which has been a transforming force in innovation, culture, and education. In addition to publishing Make: magazine and producing Maker Faire, Maker Media develops "getting started" kits and books it sells through its Maker Shed store as well as other retail channels.
Featured Product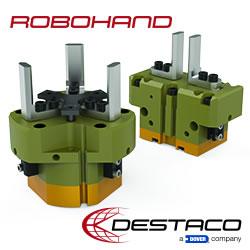 Automatically change end effector tooling quickly and easily with Destaco's Automatic Tool Changers. Designed with exceptional repeatability, high rigidity and load capacity, they are perfect for multiple tooling applications utilizing one robot. We offer different models and sizes to handle light-duty to heavy-duty applications. Our RQC/RTP Series provides a high level of flexibility with a configurable, modular design that accommodates up to four optional modular interfaces.