Organised by the EPSRC UK Robotics and Autonomous Systems (UK-RAS) Network, the week opens with a series of events across the country that aim to get the public engaged with the developments and debate in and around robotics.
A new era of innovation and discovery opens tomorrow when the first UK Robotics Week (25 June - 01 July) begins.

Organised by the EPSRC UK Robotics and Autonomous Systems (UK-RAS) Network, the week opens with a series of events across the country that aim to get the public engaged with the developments and debate in and around robotics.
As well as inspiring young and older people through a number of challenges targeted at schools, academia and industry, the week will demonstrate the high quality research taking place in the UKs universities.
Professor Guang-Zhong Yang PhD, FREng, Director and Co-founder of the Hamlyn Centre for Robotic Surgery at Imperial College London and Chair of the UK-RAS Network said: The UK is home to some of the most innovative robotics research centres in the world. UK Robotics Week provides a unique opportunity to start discussions on how robotics and artificial intelligence will change our lives. The wide range of programmes across the country, during the week, offers the general public opportunities to learn about the current state-of-the-art in robotics and future trends. Furthermore, competitions such as the School Robot Challenge will spark childrens interest in science and technology and help equip them with necessary skills for the future.
Professor Philip Nelson, Chief Executive of EPSRC, said: There can be little doubt that Robotics and Autonomous Systems (RAS) are going to change many aspects of our lives. We are near to realising a world where machines not only address laborious, repetitive or dangerous tasks on our behalf, but one where they act cooperatively with us, drawing on knowledge and experience to learn and to help us take decisions. I hope that the first UK Robotics Week will inspire the next generation of scientists and engineers to push the boundaries further. I am sure everyone involved, from children to industry to government, will enjoy taking part.
In a poll, commissioned by the UK-RAS Network ahead of Robotics Week, more than a quarter of UK adults said they believed the biggest benefit of driverless cars will be fewer road accidents.
Twenty six per cent of respondents, representing a cross-section of UK adults, think that the biggest benefit of the introduction of autonomous vehicles - such as the Google Self-Driving Car - will be a reduction in the number of road accidents1. A fifth (20.7 per cent) believe that their road rage would decrease.
While widespread advent of fully autonomous, never-need-a-driving-wheel" self-driving cars is sometime away the possibilities for safety, economy and efficiency of these devices is breathtaking said Professor Paul Newman, who is leading Oxford Universitys internationally acclaimed Mobile Robotics Group that develops self-driving cars and related technologies. He added: Early and thoughtful engagement with users - their fears, aspirations and expectations is all part of the development of the technology.
Other key findings of the research into public attitudes to robotics advances include:
71.8 per cent feel that autonomous driving would have a positive impact on everyday commuting
21.2 per cent of respondents think that the automotive sector would deliver the greatest benefits from robotics in the next 10 years
While men believe automotive will benefit most, women voted medicine the top sector to gain from robotics technology during the coming decade (20.3 per cent)
Research carried out by Opinion Matters on behalf of EPSRC UK-RAS Network between 25/05/2016 and 26/05/2016. Sample: 1282 UK adults.
About the EPSRC UK-RAS Network
The EPSRC UK-RAS Network is dedicated to robotics innovation across the UK, with a mission to provide academic leadership in RAS, expand collaboration with industry, and integrate and coordinate activities at eight EPSRC funded RAS capital facilities and Centres for Doctoral Training (CDTs) and partner universities across the country.
The Engineering and Physical Sciences Research Council (EPSRC)
As the main funding agency for engineering and physical sciences research, our vision is for the UK to be the best place in the world to Research, Discover and Innovate.
By investing £800 million a year in research and postgraduate training, we are building the knowledge and skills base needed to address the scientific and technological challenges facing the nation. Our portfolio covers a vast range of fields from healthcare technologies to structural engineering, manufacturing to mathematics, advanced materials to chemistry. The research we fund has impact across all sectors. It provides a platform for future economic development in the UK and improvements for everyones health, lifestyle and culture.
We work collectively with our partners and other Research Councils on issues of common concern via Research Councils UK.
Featured Product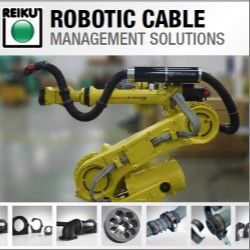 REIKU's Cable Saver™ Solution eliminates downtime, loss of revenue, expensive cable and hose replacement costs, maintenance labour costs. It's available in three sizes 36, 52 and 70 mm. All of the robots cables and hoses are protected when routed through the Cable Saver™ corrugated tubing. The Cable Saver™ uses a spring retraction system housed inside the Energy Tube™ to keep this service loop out of harms way in safe location at the rear of the Robot when not required. The Cable Saver™ is a COMPLETE solution for any make or model of robot. It installs quickly-on either side of the robot and has been tested to resist over 15 million repetitive cycles.