AI startup Acobot releases the world's first bilingual conversational Artificial Intelligence application platform as a service (AI aPaas) BrainShop, which enables developers to deliver conversational experience with a single API.
Acobot LLC, an AI company, today announced the worldwide release of BrainShop, the world's first bilingual conversational artificial intelligence (AI) application platform as a service (aPaas), which enables developers to develop, deploy and deliver Siri- or Cortana-like AI products in a fast and affordable manner.

"AI is a popular topic today. However, small and medium-sized enterprises are being left out while the IT giants such as Google, Microsoft or IBM ride the wave of artificial intelligence. The reason is AI is expensive. A conversational AI of acceptable performance would require several million dollars," said Vic Duan, founder and CEO of Acobot. "It's simply not affordable to the rest and we responded by introducing our aPaas, BrainShop."
BrainShop differentiates itself from the well-known platforms such as Watson of IBM or TensorFlow of Google by focusing on conversational artificial intelligence, which enables machine to understand human natural language and respond in human language. In addition, it provides developers with AI implementation that works out of box, in English and Simplified Chinese. Developers just need to teach the AI about their own business and deploy.
Acobot has been working conversational AI in a single language, English, since its foundation in 2010. This is the first time it releases a bilingual product. The company chose Simplified Chinese as its second language because of the huge market size of mainland China and its great potential of growth, according to Vic Duan. The company also developed unique language technologies that enable AI to switch between both languages smoothly when end users change languages. The additional languages can be added easily as the demands rise.
BrainShop started accepting public registration today. A pricing table can be found on the BrainShop's home page but it also includes a note that no charge will be applied during its beta. BrainShop developers, or "BrainMasters" as the company names them, can start their AI adventure by creating an AI "brain," and then extend it by creating "cells" and/or "nerves" in a simple language called BrainXML. There are also BrainJS, for advanced developers who want to implement complex business logy such as processing online orders.
"It sounds like neuroscience but one doesn't have to be a neuroscientist to work with AI," Vic Duan, CEO of Acobot, explained. "A BrainMaster even doesn't have to be a programmer. BrainShop includes an interactive training tool with which anyone can teach a brain, the virtual robot, without coding. For many, if not all, applications, one just needs to create a brain, train it, and integrate it with robots, mobile apps, refrigerators, autos, or anything the end users may want to converse with."
Featured Product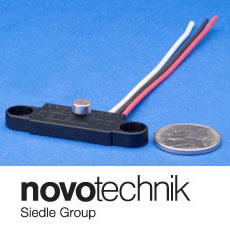 Vert-X 05E Series of dual angle/speed sensors. The series features easy mounting in small and narrow spaces with a 5 mm body depth and mounting flanges with metal inserts. The sensors make measurements only 6 mm from edge of product for close-to-wall measurement applications. Vert-X 05E Series sensors measure angles from 0 to 360°, rotational speed and direction with repeatability to 0.1°.