Country's leading healthcare equipment distributor to market the unmatched IV compounding capabilities of RIVA
ARxIUM, developer of industry-leading pharmacy automation and workflow solutions, today announced it signed an agreement with Wael Pharmacy Company W.L.L. to serve as the distributor of its RIVA automated IV compounding system in Bahrain. RIVA, the only fully automated compounding system on the market today, prepares syringes and IV bags in an aseptic ISO Class 5 environment, which significantly enhances patient safety and increases efficiency.

"Partnering with an industry-leader such as Wael Pharmacy will increase our presence in Bahrain and help meet growing interest in RIVAs ability to produce accurate, safe medications," said Dr. Niels Erik Hansen, president and CEO of ARxIUM. "Widely-known for its strong market presence and industry knowledge, the companys expertise helps create several immediate opportunities for RIVA to display its unmatched IV compounding capabilities and ability to produce a consistently strong return on investment."
Founded in 1966, Manama-based Wael Pharmacy is the countrys leading supplier of specialized healthcare equipment and services. The company is engaged in importing, warehousing, distributing and marketing several types of medical products (pharmaceutical, laboratory, healthcare consumer, surgical and more) to Bahrains government and private hospitals. Working with many of the worlds leading healthcare equipment manufacturers, Wael Pharmacy provides high-quality customer service and support to ensure hospitals achieve maximum product integration and utilization.
"This new partnership reaffirms our dedication to bringing the worlds most innovative medical and pharmaceutical products to our countrys healthcare providers," said Dr. Abdulrahman Almahmeed, chairman and managing director of Wael Pharmacy. "In collaboration with our partners, we remain committed to improving the quality of life in Bahrain, and the introduction of RIVA is another example of how we plan to achieve that goal."
In the Middle East, RIVA systems are safely and successfully preparing IV medications at King Faisal Specialist Hospital & Research Centre in Riyadh, Saudi Arabia. By installing and utilizing RIVA systems, hospitals have the opportunity to experience substantial cost savings due to improved workflow and reduced pharmacy waste, among several other benefits.
About ARxIUM
Based in Winnipeg, Manitoba and Buffalo Grove, Illinois, ARxIUM delivers best-in-class technology and unparalleled expertise to help pharmacies of all sizes improve safety, productivity and efficiency. The company provides scalable, comprehensive solutions for every segment of the pharmacy market. ARxIUMs offering includes automated compounding, packaging and dispensing, compliance packaging management, inventory control and storage, workflow and scheduling software, production and workflow design, and technical consulting and implementation assistance, among other services. The company is the first to offer a Total Dose Solution, a customizable, end-to-end solution for oral-solid and IV dose preparation. For more information, visit www.arxium.com.
Featured Product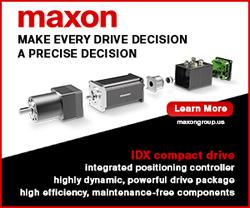 Discover the world of drive technology from a leading worldwide supplier of innovative customized drives. - Manufacturer of brushed and brushless DC motors, gearheads and motion controllers - Custom drive systems, quantities as low as a single unit - Certified for aerospace and medical applications