Sharp Electronics Corporation, founding sponsor of Robolliance, announces a top-tier alliance of corporations that have teamed together with sales channel and industry experts around autonomous robotics for security and surveillance.
Sharp Electronics Corporation, founding sponsor of the Robolliance program, formally introduced the initial slate of fellow technology sponsors. Todays announcement follows the May 10th, 2016 debut of the Robolliance program, which is a forum for technology partners and industry experts in robotics, surveillance and security to advance the understanding and awareness of the Autonomous Robotics marketplace.

Sharp Robotics Business Development (SRBD), a division of Sharp Electronics Corporation (SEC) founded the Robolliance program to bring together organizations and individuals, who are thought leaders and early adopters of robotic technology. Though the program puts emphasis on unmanned ground vehicles (UGVs), the alliance fosters a comprehensive conversation around robotic high-tech applications, history, education, engineering and more. SRBD targets growth industries primed for robotic technology. Security is one of those industries.
"We (Sharp) have a history of engineering and manufacturing success," said David Lewis, Associate Vice President of SRBD. "As Sharp evolves our product and service offerings, we wish to stay in our wheelhouse. Robolliance allows for a forum to be able to cultivate knowledge on engineering standards, training resources, and other news, as well as inform end-user customers on comprehensive solutions in the area of security and surveillance."
Rajant Corporation, developers of the patented Kinetic Mesh™ technology for wireless network infrastructure, offered this statement about Robolliance: "As a technology sponsor in the Robolliance, Rajant brings robust credentials and experience in wireless networking, robotics and security that will elevate the delivery and support of unmanned ground vehicles (UGVs)," said Paul Hellhake Chief Technology Officer and Cofounder of Rajant. "Rajant shares Sharps commitment to manufacturing excellence and innovation."
Autonomous Solutions, Inc., better known ASI, is a world leader in vendor independent vehicle automation systems. Along with their interest in the security industry, ASI serves clients in mining, agriculture, automotive, government and manufacturing industries with remote control, teleoperation, and fully automated solutions. On their participation in Robolliance, President and CEO, Mel Torrie, added, "Robotics is going to disrupt the security industry. This emerging technology will help to make sites more secure, more affordable, and may also help keep people out of harms way. Robolliance will facilitate customer understanding about how the robotic systems can leverage an array of sensors to perform analytics to safely navigate and more importantly secure the site."
Shuttle Computer Group, a leading computer manufacturer that provides products for commercial and home applications, is also on the slate of Robolliance technology sponsors. According to Shuttles solutions manager, Tosh Akhgar, "Shuttle is pleased to support Robolliance in its efforts to create awareness and understanding around cutting-edge robotic solutions. Developing unmanned vehicles and robotic devices contributes greatly to safety and security in todays challenging environment, and we look forward to future integration opportunities with the Robolliance community."
"In todays world in which security is constantly top-of-mind, the marriage of physical security with robotic technologies holds tremendous potential to improve public safety on many levels," stated David Antar, President and CEO of IPVideo Corporation, a company offering easy-to-use, open platform physical security solutions that provide maximum flexibility, performance and value. David Antar continued, "To be truly successful, it is imperative that the public understand and embrace this new paradigm rather than fear it. As a sponsor of the Robolliance and member of the security industry, IPVideo Corporation is proud to be part of a program that we hope will become the premier online resource and thought leadership forum for ideas and information related to the beneficial role robotics will play in all of our lives."
Bell and Howell, provider of innovative service and technology solutions to enrich customer communications and fulfillment for the worlds largest finance, industry and public sector enterprises, is also glad to be among other Robolliance sponsors. Ramesh Ratan, CEO of Bell and Howell said, ""We are excited to partner with Sharp and the other Robolliance sponsors to drive innovations that will make UGVs more versatile and widely adopted. We are in the early phases of game-changing technology advancements that transform classic artificial intelligence into augmented intelligence, leveraging the interplay between human intuition and mechatronics technology in what we call 'the Internet of people and things. Through Robolliance, these advances help increase the effectiveness and safety of those providing protection to industrial facilities and critical infrastructures."
Another fellow sponsor, National Solar Technologies (NST), specializes in all facets of solar electric solutions including off-grid, stand-alone solar power sources, grid-tie solar energy systems, and commercial grade stand-alone solar powered lighting solutions. On joining the Robolliance, NST General Manager and Vice President, Paul Vargovich said, "Robolliance is the catalyst for new technology solutions that fosters the birth of innovative ideas and products that the security and surveillance industry are asking for."
Cradlepoint is the leading provider of software-defined wireless and wired WAN solutions for Distributed and Mobile Enterprises. Cradlepoints Chief Marketing Officer, Ian Pennell offered, "Cradlepoint is committed to creating innovative technology that empowers end users to do more with less. We develop software-defined LTE solutions that make achieving always-on connectivity easier, so enterprises can worry less about the network and remain focused on achieving business goals. Our support for programs, like Robolliance, enables us to collaborate with the greater technology community and develop solutions that further enhance efficiency across the network. We are thrilled to be sponsoring this exciting program and look forward to working with these leaders in the autonomous robotics marketplace."
Rounding out the list of initial technology sponsors of Robolliance is GPS and RTK provider, Javad.
About the Robolliance Program
Robolliance is a forum for technology partners and industry experts in robotics, surveillance and security to advance the understanding and awareness of the Autonomous Robotics marketplace.
For more information, visit Robolliance.com
About Sharp Electronics Corporation
Sharp Electronics Corporation is the U.S. subsidiary of Japans Sharp Corporation. Sharp is a worldwide developer of one-of-a-kind home entertainment products, appliances, networked multifunctional office solutions, LED lighting, and mobile communication and information tools.
For more information, visit SharpUSA.com.
Featured Product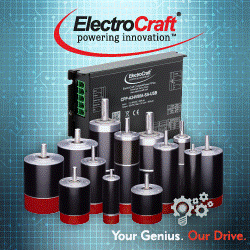 ElectroCraft exhibits its motion control product offer at Robotic related events at trade show and demonstrations across the world. We attend these events and conferences not only to show our motor and drive product offering, but to discuss and learn more about challenges involved with developing commercial robotics across markets.