Visit ATI at Booth #N-6429, September 12-17, McCormick Place, Chicago, IL
ATI Industrial Automation will be exhibiting at the upcoming International Manufacturing Technology Show (IMTS) on September 12-17, 2016, in Chicago, IL at McCormick Place, North Hall, Booth #N-6429. IMTS 2016 is the premier manufacturing technology show in North America. More than 2,000 exhibiting companies will occupy 1.3 million square feet of exhibit space at the McCormick Place complex in Chicago, Illinois.

ATI will display several live robotic demonstrations that feature Robotic Tool Changers, Robotic Deburring Tools, Force/Torque Sensors, Robotic Collision Sensors, and Compliance Devices. All of their latest advances in robotic end-effectors and automation tooling will also be on display.
New Compliance Devices: ATI's newest addition to their Compliance Device product line is a Universal Compliance Compensator (UCC) that allows axial, lateral, pivoting, and twist compliance with a pressurized internal reset piston to bias the position. The UCC joins ATIs other recently developed Pivoting Compliance Compensator (PCC) models and Lateral Compliance Compensator (LCC) models. These unique devices allow pieces to be gripped or routed reliably even if the workpiece is severely misaligned. All three of these series are designed for high endurance and high repeatability and have robust guidance allowing for high moment loads in a compact work envelope.
Inductive Tool Changer Modules: ATI has developed a series of non-contact inductive coupler pass-through modules for ATI Standard Series Robotic Tool Changers. The NF12 and NB8 Master Modules will inductively provide power through an air gap to the Tool Modules to power up to twelve sensors for the NF12 or eight sensors for the NB8.In turn, the Tool Modules will transmit signals from the sensors inductively to the Master Modules through the air gap. Physical contact via spring probes and solid contacts for power and signal transmission is not required making it ideal for sensor monitoring in harsh or wet environments.
Tool Stands for Tool Changers: ATI has designed a series of modular Tool Stands for use with their wide range of Robotic Tool Changer models. These Tool Stands are designed for maximum flexibility to fit most customer applications.The modular system concept allows you to "build your own" tool storage rack based on the number of tools, positioning, orientation, and mounting arrangements required. ATI will have a large variety of Tool Stand options on display in their booth at the show.
Improved Manual Tool Changers: ATI has developed an improved series of Manual Tool Changers that provide a cost-effective and repeatable solution for quickly changing tools by hand. New improvements include: an all steel coupling housing for higher durability, a ratchet knob for additional security to the locked position, and improved torsional stiffness. A variety of ATI's Standard Series Tool Changer Utility Modules can attach to pass utilities such as air, fluid, power, electrical signals, and more.
Featured Product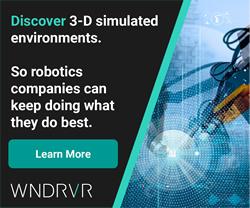 Develop new robotic capabilities with ROS 2 for VxWorks. ROS 2 for VxWorks® project provides custom modifications and build scripts to integrate the Robot Operating System 2 (ROS 2) framework with VxWorks 7. ROS 2 is a set of software libraries and tools that aid in building robot applications. Build ROS 2 for VxWorks using 1) with a VxWorks SDK that is available on the site under a free non-commercial use license; or via 2) with a commercially-licensed VxWorks product.