PASADENA, CA, July 21, 2016 /PRNewswire/ - Space Systems Loral (SSL), a leading provider of innovative satellites and spacecraft systems, today announced it has received $20.7 million from the Defense Advanced Research Projects Agency (DARPA) to design and build robotic arm flight hardware for the first phase of the agency's Robotic Servicing of Geosynchronous Satellites (RSGS) program. SSL is receiving the funds through MDA US Systems, a division of MDA managed by SSL, and is working with the U.S. Naval Research Laboratory (NRL), which is the prime contractor managing the program.

The contract is for two complete robotic arm systems, which would be able to carefully capture and berth with satellites that were not previously designed for docking. The robotic arms would each have multiple joints enabling dexterous movement and could carry and use multiple generic and mission-specific tools. Building on contracts announced in both 2012 and 2013 for prior DARPA research into space robotics, the total contract value awarded now stands at over $40 million, and could grow further if all remaining options are exercised.
"The ability to safely and cooperatively service satellites in GEO would expand public and private opportunities in space. It could enable entirely new spacecraft designs and operations, including on-orbit assembly and maintenance, which could lower construction and deployment costs while extending satellite utility, resilience and reliability," said Al Tadros, vice president, Civil and DOD Business at SSL.
The goal of the RSGS program is to cooperatively inspect, capture, reposition, repair, and upgrade GEO spacecraft. The DARPA-developed hardware and software toolkit, which includes the robotic arms, is planned to be integrated onto a commercially owned and operated servicing vehicle to provide on-demand servicing in space.
"Our work with DARPA and the U.S. Naval Research Laboratory leverages many years of experience with robotics applications in space," said Steve Oldham, vice president, Strategic Business Development at SSL. "We are very pleased to participate in the RSGS flight demonstration program, which is expected to make on-orbit servicing a reality."
SSL has the ability to build on robotics technologies proven on the Space Shuttle, the International Space Station and the Mars lander and rovers. The company recently announced other missions with the U.S. government and is working with DARPA and NASA to develop robotic on-orbit satellite assembly. SSL is also the industry partner for a potential NASA Discovery Program mission to the asteroid Psyche and is participating in a first-phase study for a spacecraft bus for NASA's Asteroid Redirect Mission.
About SSL
Space Systems Loral (SSL) is a leading provider of commercial satellites with broad expertise to support satellite operators and innovative space related missions. The company designs and manufactures spacecraft for services such as direct-to-home television, video content distribution, broadband internet, mobile communications, and Earth observation. As a Silicon Valley innovator for more than 50 years, SSL's advanced product line also includes state-of-the-art small satellites, and sophisticated robotics and automation solutions for remote operations. For more information, visit www.sslmda.com.
Featured Product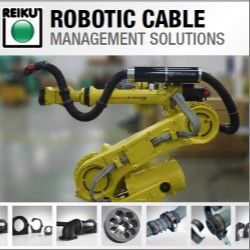 REIKU's Cable Saver™ Solution eliminates downtime, loss of revenue, expensive cable and hose replacement costs, maintenance labor costs. It's available in three sizes 36, 52 and 70 mm. All of the robots cables and hoses are protected when routed through the Cable Saver™ corrugated tubing.The Cable Saver™ uses a spring retraction system housed inside the Energy Tube™ to keep this service loop out of harms way in safe location at the rear of the Robot when not required. The Cable Saver™ is a COMPLETE solution for any make or model of robot. It installs quickly-on either side of the robot and has been tested to resist over 15 million repetitive cycles. REIKU is committed to providing the most modular, effective options for ensuring your robotic components operate without downtime due to cable management. www.CableSaver.com