Use of the telepresence robot with the video and microphone capability to achieve remote presence is a vital aspect of personal mobility devices. Telepresence robots are poised to achieve a vital extension of electronic communication in ways that will become indispensable to everyone soon.
Worldwide Telepresence Robots markets are poised to achieve significant growth. People like mobility, they like remote communication and telepresence robots add a new dimension to remote communication.

Complete report of 482 pages is available at http://www.reportsnreports.com/reports/518953-telepresence-robots-market-shares-strategies-and-forecasts-worldwide-2016-to-2022.html.
The quality of remote communication is uplifted by the robotic platform approach to connecting people located in different places. The visualization provided by the telepresence robot is not reproducible by the smartphone and large telepresence systems are not mobile. So ultimately all people will want access to telepresence robots in order to move around and see for themselves what is going on in another place.
Telepresence robot device markets at $825 million in 2015 are anticipated to reach $7 billion by 2022 as next generation robotic devices, systems, and instruments are introduced to manage remote presence. The robotic platform will be extended to include grippers and cameras of all types, sensors and sophisticated navigation software.
The complete report provides a comprehensive analysis including units sold, market value, forecasts, as well as a detailed competitive market shares and analysis of major players success, challenges, and strategies in each segment and sub-segment. The report covers markets for security, law enforcement, manufacturing, healthcare, education, and business telepresence.
Companies Profiled
Market Leaders: InTouch, Double Robotics, Mantaro, Vgo, General Dynamics, Northrop Grumman, QuinetiQ, Lockheed Martin, SDR, iRobot, Kongsberg, Telerob and RecanRobotics
Market Participants: Anybots, Dimaa Network Services LTD (DNS), DJI, Double Robotics, GlobalMed, iRobot, Inbot Technology PadBot, Intouch, Mantaro, Orbis Robotics, QinetiQ, Rbot, ReconRobotics, Revolve Robotics, Robosoft, Robotex, Suitable Technologies, TechnoRobot, VGo and Vsee
Get a Copy of Report at http://www.reportsnreports.com/purchase.aspx?name=518953.
Table of Contents
Telepresence Robots Executive Summary
1. Telepresence Robots Market Description And Market Dynamics
2. Telepresence Robots Market Shares And Market Forecasts
3. Telepresence Robot Product Description
4. Telepresence Robots Technology And Research
5. Telepresence Robots Company Description
List of Tables and Figures
Table ES-1 Telepresence Robot Principal Market Factors 30
Table ES-2 Telepresence Robots Anti-Terrorist Market Driving Forces 31
Table ES-3 Telepresence Robots Civil Uses Market Driving Forces 32
Table ES-4 Law Enforcement Robotics Market Factors 37
Figure ES-5 iRobot 210 Negotiator 40
Figure ES-6 Suitable Technologies BeamPro 41
Figure ES-7 Law Enforcement, First Responder, and Border Patrol, Telepresence Robot Market Shares, Dollars, Worldwide, 2015 42
Figure ES-8 Telepresence Robot Systems Forecasts, Dollars, Worldwide, 2016-2022 44
Table 1-1 Telepresence Vendor Positioning 47
Table 1-2 Communications and Collaboration Solution Applications and Functionality 53
Table 1-3 Telepresence Robots Use Case Market Segments 58
Figure 1-4 InTouch Health Telehealth Solution Physician Services Offering 60
Table 2-1 Telepresence Robot Principal Market Factors 70
Table 2-2 Telepresence Robots Anti-Terrorist Market Driving Forces 71
Table 2-3 Telepresence Robots Civil Uses Market Driving Forces 72
Table 2-4 Law Enforcement Robotics Market Factors 77
And more
About Us:
ReportsnReports.com is your single source for all market research needs. Our database includes 500,000+ market research reports from over 100+ leading global publishers & in-depth market research studies of over 5000 micro markets. With comprehensive information about the publishers and the industries for which they publish market research reports, we help you in your purchase decision by mapping your information needs with our huge collection of reports.
Contact:
Ritesh Tiwari
Tel: +1-888-391-5441
sales@reportsnreports.com
Featured Product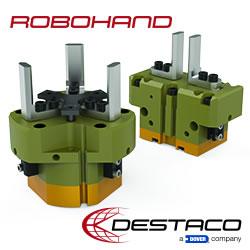 Automatically change end effector tooling quickly and easily with Destaco's Automatic Tool Changers. Designed with exceptional repeatability, high rigidity and load capacity, they are perfect for multiple tooling applications utilizing one robot. We offer different models and sizes to handle light-duty to heavy-duty applications. Our RQC/RTP Series provides a high level of flexibility with a configurable, modular design that accommodates up to four optional modular interfaces.