Custom Machine and Tool Co., Inc. offers timing pulley stock for the manufacturing of rapid prototype and/or repair applications. Guaranteed shipment within 72 hours for up to a 5 piece order or we pay the UPS ground shipping.
CMT OFFERS TIMING PULLEY STOCK FOR MANUFACTURING

OF RAPID PROTOTYPE AND/OR REPAIR APPLICATIONS
Custom Machine & Tool Co., Inc. has been the preferred choice for pulley stock at OEM's for over 45 years. We have pricing and delivery for distributors that will increase profits and deliver product quicker than anyone in the pulley stock business. We'll guarantee shipment of up to 5 pieces of many different sizes in aluminum and steel within 72 hours (3 business days) or we'll pay the UPS ground shipping.*
Our pulleys are produced in all pitch types - trapezoidal inch, metric, AT and HTD metric curvilinear. Materials include aluminum, steel, stainless steel, plastic, brass and bronze. As a bonus for our customers wanting a one-stop solution, we have a complete line of matching pulley flanges in aluminum and steel.
Custom Machine & Tool Co., Inc. manufactures timing pulleys; the patented CONCENTRIC MAXI TORQUE keyless hub to shaft connection systems; drive systems; and components for the motion control and power transmission markets.
To learn more about Custom Machine & Tool Co., Inc.'s expanded product line, contact the company at 781-924-1003, email to info@cmtco.com or visit the website at www.cmtco.com.
Featured Product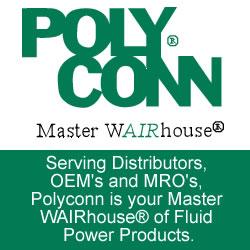 We can produce pneumatic hose and other pneumatic products to match your exact specifications. Our proficient engineering and quality management, coupled with outstanding customer service means Polyconn delivers high quality pneumatic components at competitive prices. Place your order or contact Polyconn for more information on our pneumatic hoses, pneumatic manifolds, Duratec® Pipe or any of our other top quality pneumatic products and components.