Automation Industry Continues Growth
Ann Arbor, Michigan, USA -- August 18, 2016 - The North American automation industry has set new records to begin 2016, according to the Association for Advancing Automation (A3), the industrys trade group. The advent of more automation in North American manufacturing promises increased efficiencies in production and the ability to compete globally.

A3, whose mission is to advocate and promote automation technologies and ideas that transform the way business is done, tracks the robotics, machine vision and motion control markets for its three daughter associations, Robotic Industries Association (RIA), AIA - Advancing Vision + Imaging, and Motion Control & Motor Association (MCMA). A3 is at its highest membership level ever, welcoming 119 new member companies year to date. A3, with its daughter organizations, now represents 965 member companies directly involved with robotics, vision, motion control and motors.
Robot Statistics
A total of 14,583 robots valued at approximately $817 million were ordered from North American companies during the first half of 2016. The number of units ordered in the first six months marks a new record to begin the year, growing two percent over the same period in 2015, which held the previous record. Order revenue decreased slightly by three percent in the first half of 2016. In the same timeframe, 13,620 robots valued at $838 million were shipped to North American customers. These figures represent the second highest total for units shipped and a new record for shipment revenue in the first half of a year.
The number of robots ordered by automotive OEMs and component suppliers increased 16% and four percent respectively to begin the year, and was the largest driver of the markets record performance. Similarly, the food and consumer goods industry soared in the first half of the year, ordering 41% more robots than the same period in 2015. Total orders to all other non-automotive industries decreased 14%. In terms of applications, the biggest increases were realized in inspection (69%), assembly (38%), and spot welding (21%). RIA estimates that some 265,000 robots are now at use in North American factories, which is third to only Japan and China.
"The robotics industry is thriving today as more companies of all sizes are realizing the benefits of automation," said Jeff Burnstein, President of A3. "The increasing functionality, flexibility, affordability and safety of robots today contributes to how this dynamic market is reshaping the global manufacturing landscape."
Motion Control & Motor Statistics
Global shipments for motion control products grew by three percent to $1.54 billion in the first half of 2016.
"The encouraging first half performance was largely driven by growth in three important product categories," said Alex Shikany, MCMA Director of Market Analysis. "Two of the largest segments we track, actuators/mechanical systems (11%) and electronic drives (eight percent), saw strong growth in the first half of the year. Motion controllers, one of the hottest current product markets, also increased by eight percent in the first half of 2016."
The second quarter of 2016 increased on a year over year basis by five percent to $820 million. The categories which grew the most in the second quarter were electronic drives (16%), actuators/mechanical systems (12%), and motion controllers (11%). Additionally, the latest MCMA survey of motion control and motor suppliers revealed that the majority of industry experts believe the market will increase in the next six months.
Vision & Imaging Statistics
The machine vision market entered 2016 on the heels of two consecutive record-setting years for sales in North America. Despite a seven percent cyclical contraction in the first half of the year to $1.1 billion, which was largely tied to the stagnation in the semiconductor industry, the machine vision market in North America remains a key growth segment within the booming automation landscape.
As the "eyes" of emerging smart-factories and robotic systems, machine vision is critical to the success of next-generation automation solutions. Products such as smart cameras, which are complete vision systems contained within the same camera enclosure, are opening new application areas for manufacturers. In North America, the smart camera category has grown four percent year over year to $157 million in the first half of 2016.
Statistics from the second quarter of 2016 indicate that the cyclical slowdown this market experienced to begin the year is subsiding. For example, machine vision systems (which includes smart cameras and application specific machine vision systems) grew seven percent to $495 million, compared to the first quarter of 2016. Similarly, machine vision component markets, which includes cameras, lighting, optics, imaging boards, and software, grew two percent to $80 million. Correspondingly, total machine vision sales in the second quarter of 2016 increased six percent over the first quarter.
Burnstein also noted that A3 is seeing the growing demand for machine vision, robotics, and related automation in events like the upcoming Automate 2017 trade show. "The exhibit floor at Automate 2017 is expected to be significantly larger than our 2015 event," he said. "This growth is attributed to the fact that leading automation companies are reaching out to small and medium sized customers. These companies, many of whom are just now beginning to explore automation, make up the core of the Automate 2017 attendee base."
Automate 2017, the industrys leading event, will take place April 3-6, 2017 at McCormick Place in Chicago. For complete details on Automate, which is held every two years, visit www.automateshow.com.
About Association for Advancing Automation (A3)
The Association for Advancing Automation is the global advocate for the benefits of automating. A3 promotes automation technologies and ideas that transform the way business is done. A3 is the umbrella group for Robotic Industries Association (RIA), AIA - Advancing Vision + Imaging, and Motion Control & Motor Association (MCMA). RIA, AIA, and MCMA combined represent some 965 automation manufacturers, component suppliers, system integrators, end users, research groups and consulting firms from throughout the world that drive automation forward.
For more information, visit: A3 - www.A3automate.org. RIA - www.robotics.org. AIA - www.visiononline.org. MCMA - www.motioncontrolonline.org.
Featured Product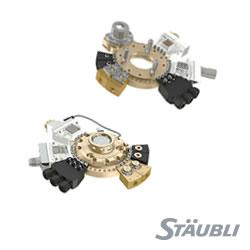 TX2 robots: redefining performance by offering collaborative safety and high performance in a single machine. These pioneering robots can be used in all areas, including sensitive and restrictive environments, thanks to their unique features. Safety functions are easy and inexpensive to implement. They allow a higher level of interactions between robots and human operators, while still guaranteeing protection of your people, production and investment.