This two day course will expose students to key aspects of the Unmanned Aircraft Systems industry with a focus on the operator role and mission. This course is designed to help students obtain their operator certificate from the Federal Aviation Administration.
The Aviation Institute of Maintenance (AIM) announced today the new Unmanned Aircraft Systems (UAS) training for two of its locations; Chesapeake and Manassas. The announcement came as a response to the growing regulations set forth by the FAA in regards to commercial use of Unmanned Aircraft.

This two-day training will teach students the history of UASs, their missions, the development of regulations and explore future opportunities in this growing field of aviation. It is the objective of the first course of the weekend to help students understand aerodynamic theory and the principles of flight, flight restrictions and obstacle clearing and the roles and responsibilities for UAS. The second course provides an operational understanding on UAS including unique flight properties and performance, calculating weight and balance, performing basic and advanced flight maneuvers and actions and responses to common emergency scenarios.
The Aviation Institute of Maintenance UAS training will prepare students to take the FAA UAS aeronautical test, or recurrent test for former military UAS operators, which would allow them to obtain their operator certificate from the FAA. Test fees are included in the cost of the training. Scheduled class dates include:
Manassas - September 24 - 25, 2016
Manassas - September 30 - October 1, 2016
Chesapeake - October 15 - 16, 2016
Chesapeake - October 22 - 23, 2016
For more information, contact Brian Yeck (admdiramm(at)aviationmaintenance(dot)edu) for Manassas training and Rosetta CiConta (admdiramn(at)aviationmaintenance(dot)edu) for Chesapeake.
About Aviation Institute of Maintenance
Aviation Institute of Maintenance is the United States' largest family of aviation maintenance schools, with headquarters in Virginia Beach, Va. Students learn the skills necessary to become successful in one of the world's fastest growing industries, aviation maintenance and the free Human Factors course and certification are examples of the school's passion and commitment to the aviation industry. AIM graduates are trained to meet the increasing global demands of commercial, cargo, corporate and private aviation employers. AIM's campuses are located in the following major metro areas: Atlanta, Philadelphia, Dallas, Houston, Indianapolis, Las Vegas, Washington, D.C., Kansas City, Mo., Oakland, Calif., Orlando, Fla., and Norfolk, Va. Learn more at: http://www.AviationMaintenance.edu.
###
Featured Product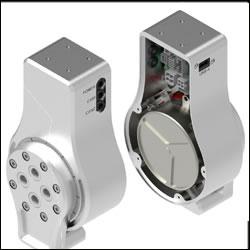 A brushless DC motor solution for use in hip and knee exoskeletons. This complete joint actuation unit consists of motor, gearhead, encoder and position controller. Fitting absolute encoder directly at the joint rotation provides designers increased positioning accuracy. The unit will deliver 54Nm of continuous torque and 120Nm on a 20% duty cycle. The system can be operated on supplies between 10 and 50V DC and the actuation speed is up to 22rpm.