AgVault Mobile App 2.0 Battery Swap Feature Revolutionizes UAV Flight Planning and Data Capture
MINNEAPOLIS, Sept. 8, 2016 /PRNewswire/ -- Sentera announced today their latest update to the AgVault™ 2.0 Mobile iOS app, featuring a battery-swap capability that enables operators to plan a flight of any size, that seamlessly accommodates any number of batter swap-outs. The feature monitors battery life, notes the exact coordinates where it left off, and returns to the operator when a new battery is required. Once a replacement battery is installed, the unmanned aerial vehicle (UAV) automatically resumes flight and data capture exactly where it left off.

"This feature is a monumental advancement for both the UAV and precision agriculture industries," remarked Reid Plumbo, director of product management for Sentera. "The most common constraint with crop-scouting large fields - getting a complete data set on a single battery - is just gone. You can plan flights that are hours long if you want to. AgVault has you covered."
The battery-swap feature was designed in conjunction with the AgVault 2.0 App Flight Planning Capability, launched in June 2016. Operators simply select the UAV's altitude, sensor configuration, overlap, sideslip, and an area on their field to survey. Then the UAV launches from within the app, autonomously flies the flight plan, notifies the operator when the battery is low, returns home for a battery swap, and then automatically resumes the flight plan until the complete data set is attained.
The battery swap and flight planning features work with the DJI PHANTOM™ 4, PHANTOM 3, and INSPIRE™ families of products. Farmers and agronomists who need high-resolution color, near-infrared (NIR), and normalized difference vegetation index (NDVI) data from vast amounts of acres in a single flight plan can now capture that data easily, and can quickly make decisions based on that data. And as that information and data grows, the data inventory becomes more useful and easier to mine and share, thanks to AgVault's other features, like seamless integration with other data sources, compatibility with common stitching tools, and ability to import existing data.
"Now all that really matters is the size of your data card," noted Kris Poulson, vice president of agriculture for Sentera. "Every single AgVault customer - new and existing - can capture imagery of as many acres as they want to. The UAV is autonomous, the image capture is seamless, and the data management and integration features that AgVault was designed for make it extremely-useful right away. Even right in the field! This capability will revolutionize the way people capture aerial imagery."
The AgVault 2.0 Software is comprised of desktop, mobile, and cloud components that automatically synchronize data, wherever you need it. The software is compatible with most popular prescriptive analytics tools, and the AgVault 2.0 Software does not require an internet connection to operate, allowing growers to make data-driven crop health decisions at the field edge. AgVault 2.0 software creates QuickTile™ maps in the field, allows users create and export ShapeFiles, share and annotate data.
Sentera's AgVault 2.0 Mobile App battery swap feature is part of the AgVault 2.0 Software solution, available today with a free trial. Visit http://www.sentera.com/agvault to sign up or learn more.
About Sentera
Since its inception in 2014, Sentera has raised $8.5M in capital from strategic investors and its technologies are being used today by real people, to solve real problems. With more than 220 years of combined experience with sensors, software, UAV, data management, and engineering solutions, Sentera is a leading designer, developer, and manufacturer of remote-sensing technologies in the agriculture, infrastructure, and public safety industries. Sentera's equipment has collected 25,000,000 acres of images, gathered 175 terabytes of data and conducted over 8,000 flights. Learn more about Sentera at www.sentera.com.
Featured Product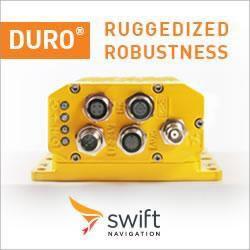 Duro® and Duro Inertial are enclosed dual-frequency RTK GNSS receivers. Designed and built to survive long-term, outdoor deployments, the easy-to-deploy Duro and Duro Inertial combine centimeter-accurate positioning with military ruggedness at a breakthrough price. Duro Inertial features an integrated IMU for continuous centimeter-accurate positioning in the harshest of outdoor deployments.