Furhat Robotics – makers of the worlds most social robots – is in San Francisco for the Startup Europe Comes to Silicon Valley (SEC2SV) programme – September 12-20.
Furhat Robotics - makers of the worlds most social robots - is in San Francisco for the Startup Europe Comes to Silicon Valley (SEC2SV) programme - September 12-20. Supported by the pan-European EIT Digital Accelerator, the scaleup is now launching in the US and looking for new partners.

Furhat Robotics is a spin-off from KTH Royal Institute of Technology (Sweden). Launched in 2014, the Furhat platform is being adopted by some of the worlds most creative companies and labs.
Combining advanced AI and unique robotics technology with a deep understanding of social intelligence and human-computer interaction, the Furhat Robotics team has developed a social robot with unique expressiveness and a powerful conversational platform that has received high profile awards in Sweden and has been recognised by the Silicon Valley Forum. In Sweden, Furhat Robotics has already worked closely with partners to develop verticals for social robotics in education, elderly health care, public spaces and cognitive therapy.
"The Furhat robot platform is being used today by companies such as Disney, Honda Robotics, Toyota, and Intel, who are working with us to build the first large applications for the platform," says CEO Samer Al Moubayed.
CEO Samer Al Moubayed, who holds a PhD in Artificial Intelligence and Natural Language Processing, and is a former Walt Disney Imagineer, moved back to Sweden from Pittsburgh to found the company with a group of world-leading scientists.
"These are only the very early days. We see a clear disruptive curve for social robots, similar to the PC and smart phone revolution. We believe our technology can be an enabler and a leader in that revolution. We are now taking Furhat to the next level, and are very excited to showcase the technology and meet relevant actors in the Silicon Valley during this trip," says CEO Samer Al Moubayed.
"Furhat Robotics is pushing the boundaries of human-robot interfaces and expanding the scope of how and where the technology can be applied. They are an excellent example of European disruptive technology, which were incredibly pleased to be showcasing at SEC2SV," declares Göran Olofsson, Node Director EIT Digital Sweden. "The Furhat Robotics are bringing the future of AI and robotics to the market and I have no doubts they will raise great interest in San Francisco."
About EIT Digital
EIT Digital is a leading European open innovation organisation. Our mission is to foster digital technology innovation and entrepreneurial talent for economic growth and quality of life in Europe. We bring together entrepreneurs from a partnership of over 130 top European corporations, SMEs, start-ups, universities and research institutes.
EIT Digital invests in strategic areas to accelerate the market uptake of research-based digital technologies and to bring entrepreneurial talent and leadership to Europe. Our innovation and education activities are organised in and around our co-location centres, where students, researchers, engineers, business developers and entrepreneurs come together to drive the digitalisation of society.
EIT Digital is a Knowledge and Innovation Community of the European Institute of Innovation and Technology (EIT). Since 2010, EIT Digital has consistently mobilised talent, ideas, technologies, investments and business across Europe and beyond to stimulate disruptive digital innovation. EIT Digital headquarters are in Brussels with co-location centres in Berlin, Budapest, Eindhoven, Helsinki, London, Madrid, Paris, Stockholm, Trento and a hub in Silicon Valley.
Featured Product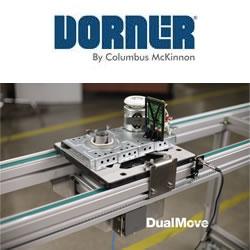 Dorner's 2200 Series Precision Move Pallet Systems are ideal for assembly automation. With features such as an innovative timing belt conveyor design and industry best pallet transfers, they get your product to the exact location, at the exact time and in the exact position it needs to be. They are now available with new options such as heavy load corner modules with 150 lb. capacity and 180 degree tight transfer corners for compact loops.