Pack the halls! A total of 115,612 people registered for IMTS 2016, the third highest total ever and the most for a six-day show. IMTS 2016 also broke an all-time record for the highest number of exhibitors, 2,407.
McLean, VA, Sep 21, 2016 — IMTS - The International Manufacturing Technology Show today released the final numbers for IMTS 2016, which ran from September 12 - 17 at Chicagos McCormick Place. IMTS 2016, the 31st edition of the show, was the third largest in number of registrations (115,612) and in net square feet of exhibit space (1,370,256). This show hosted the highest number of exhibiting companies ever (2,407). After move in, the building was 76 million pounds heavier.

Pack the halls! A total of 115,612 people registered for IMTS 2016, the third highest total ever and the most for a six-day show. IMTS 2016 also broke an all-time record for the highest number of exhibitors, 2,407.
"IMTS has grown not only in size, but in the overall scope of manufacturing," says Peter R. Eelman, Vice President - Exhibitions & Business Development at AMT - The Association For Manufacturing Technology, which owns and manages IMTS. "There are more compelling reasons for people to attend. Whether they come to research new technology, evaluate vendors before purchasing, find solutions or connect with the leaders in the manufacturing industry, there is simply no substitute for attending IMTS."
Top Technology Trends
The dominant technologies at IMTS 2016 were additive manufacturing, robotics automation and an increasing digital thread, according to Tim Shinbara, AMT Vice President - Manufacturing Technology. He noted specific nuances within each of these trends.
"Four years ago, only one company exhibited a hybrid machine. At IMTS 2016, we had multiple companies demonstrate machines with both additive and subtractive capabilities, meeting the supply side demand for structural metallic components," said Shinbara. With traditional CNC manufacturers becoming more involved with additive, he believes that they will apply their knowledge of industrial requirements when building hybrid machines.
On the automation side, embedded sensors and processors moved closer to the moment of inertia, enabling split second decision-making that prevents collisions or enables a smooth, fluid and rapid response. "Moving robotic intelligence nearer to the end of the arm enables more collaborative manufacturing where humans and robots can work closely and more safely together," said Shinbara.
With regard to digitization, numerous companies introduced equipment with Industrial Internet of Things (IIot) capabilities. "Were seeing an acceleration and acceptance of protocols such at MTConnect. This 'data dictionary enables the creation of a digital thread linking components, processes and analytical tools," said Shinbara. He foresees that, by IMTS 2018, C-suite business decisions will be made based on real-time data being pulled from the production floor and among facilities.
Opening Ceremonies
U.S. Secretary of Commerce Penny Pritzker gave the keynote speech for the Grand Concourse opening ceremony. She stated that, "There are three key reasons why Made in America remains the best brand in the world: our people, our business climate and our capacity to innovate." Pritzker used the occasion to announce that the National Network of Manufacturing Innovation (NNMI) has been officially rebranded as ManufacturingUSA ( www.ManufacturingUSA.com). The network consists of public-private institutes dedicated to securing the nations future through manufacturing innovation, education, and collaboration. Later in the show, directors from ManufacturingUSA also spoke from the Grand Concourse stage, including Mike Molnar, Director, Advanced Manufacturing National Program Office, Ed Morris, Director, America Makes and Maj. Gen. Nick Justice, Executive Director, PowerAmerica.
On with the show - the 2016 International Manufacturing Technology Show! Cutting the ribbon are (L-R) AMT President Doug Woods, U.S. Secretary of Commerce Penny Pritzker and Hardinge Group President/CEO Rick Simons, who is also AMT Chairman. Photo by Oscar & Associates
She also noted that October 7, 2016, is Manufacturing Day ( www.mfgday.com). "Invite a class from your local schools and their career advisors to tour your plant so that they can experience the exciting work and career opportunities that exist in todays 21st Century manufacturing."
In addition to the Secretary, officials from the Departments of Commerce, Defense and Energy toured IMTS throughout the week to get a firsthand look at how advances in manufacturing technology are impacting the world. VIPs from the state and local level included Illinois Governor Bruce Rauner and Chicago Mayor Rahm Emanuel.
The East Building IMTS 2016 and Smartforce Student Summit opened with a ceremony that tied the history of IMTS to the future of manufacturing. The ceremony honored Process Engineer Jim Allemann for attending his 25th consecutive IMTS. "My first IMTS was 65, and Ive come every year because my employers sent me to the show to learn whats new and bring back that information and incorporate it into what we do." After finding a linear rolling guide from an IMTS exhibitor, Allemann was able to patent a device in 2014 that measures pins up to 42 inches long with 0.0005-in. accuracy. To honor the future, IMTS recognized 13-year-old Oliver Leopold, who is attending his second IMTS along with his Robobtronics FIRST LEGO League team. Leopold ignites energy and enthusiasm for the manufacturing industry on his YouTube channel.
AMTs Emerging Technology Center (ETC)
A highlight of futuristic technology at IMTS was the ETC display. The ETC featured the AMIE (Additive Manufacturing Integrated Energy) project from the Department of Energys (DOE) Oak Ridge National Laboratory (ORNL). AMIE featured a 3D-printed house and 3D-printed utility vehicle. Both were made from carbon fiber-reinforced ABS plastic composite material at the DOEs Manufacturing Demonstration Facility at ORNL using large-scale additive manufacturing.
During a special IMTS Media Day, Dr. Craig Blue, CEO of the Institute for Advanced Composites Manufacturing Innovation remarked that, "With the long lead times on a mold, it really increases the innovation cycle and the ability to rapidly build on what youve learned."
Expanding on that topic, Dr. Mark Johnson, Director, Advanced Manufacturing Office, U.S. Department of Energy, noted that in manufacturing processes, tooling is often a long lead-time item. As a result, companies rationalize that they can source tooling globally.
"However, if you can turn around the tooling in 24 hours or 48 hours, suddenly, its really important to have the tool manufacturing and that prototype manufacturing adjacent or close to where all the parts are being made or being designed."
In addition the 3D printed house and vehicles, the ETC featured the "additive bionic human" with medical implants printed using laser sintering technology from EOS North America, a partner in the exhibit. EOS displayed a cranial implant, tracheal implant, dental implant, leg prosthesis and joints for the ETC.
"Additive manufacturing can forge connections between local tool builders and OEMs from Detroit to Des Moines," says Eelman. "Yes, the ETC displays an eye-catching house, but its real purpose is to demonstrate technologies and concepts that make manufacturers think outside of the box."
IMTS Ride Experience
The IMTS Ride Experience featured the breakthrough technology in "Olli," a self-driving electric vehicle that deftly navigated through the structural support pillars in C-Hall. Equipped with IBM Watson Internet of Things (IoT) technology, Olli is more than just an intelligent and entertaining ride. Olli represents how Direct Digital Manufacturing (DDM) and 3D printing are fundamentally changing the way manufacturers create products, in turn creating a future where product development timelines are significantly reduced.
"The vehicle will have a huge impact both on the transportation and manufacturing industries," said Local Motors CEO Jay Rogers. "Our capabilities with DDM will allow us to make this one of the most adaptable vehicles ever created. The use cases for Olli are nearly endless, from navigating commuters around the Loop in Chicago to traversing a corporate campus in a rolling conference room. The way we build this vehicle will change the way people think about vehicle production and manufacturing."
Student Summit Offers Hands-on Challenges
During the show, a record number of more than 17,000 students, parents and educators visited the Smartforce Student Summit, which offered nine challenges, each designed for students to discover and use technologies utilized in advanced manufacturing, including CAD/CAM software, robotics, 3D printing, machining, tooling, metrology, automation and welding.
"Students were able to do so much more than observe and interact. They could actually use the technology in a way that gave them a real-world preview of the industry and various manufacturing careers," says Greg Jones, Vice President, Smartforce Development, AMT.
In the "Build It!" area, experienced teams of mechatronics students (those with mechanical and electronic skills) worked with waterjet experts from WARDJet to plan, wire, wrench and assemble a high-end waterjet system. Winners of the build-off competition received an $85K waterjet for their schools machining lab.
Conferences Prove Popular
Conference sessions at IMTS 2016 collectively attracted 2,296 attendees and offered 159 sessions spanning 151+ hours of programing.
"The hottest topic, judging solely by attendance, was Additive Manufacturing. Gardner Business Medias Additive Manufacturing Conference brought in 475 attendees, while the EOS NAUD registered nearly 600 people," said Bill Herman, Director - International Exhibitions and Sponsorship, AMT.
The Additive Manufacturing Conference, Sept. 13-14, was highly successful in large part due to the serious growth in industrial part production, particularly in the aerospace market. Adoption curves are more quickly advancing from prototyping to production, as evidenced by Caterpillars Additive Manufacturing Product Manager, who discussed the company evolution into additive manufacturing of larger aftermarket components. Autodesk presented its view on the large leaps made in the materials being used in additive manufacturing.
"Attendees walked away inspired by the potential of additive manufacturing in terms of design freedoms and what that means for part variability and new directions in manufacturing," said Travis Egan, Group Publisher, Gardner Business Media.
Educational events included the IMTS 2016 Conference, Additive Manufacturing, EOS North American User Day, Fluid Power, Industrial Laser, Integrated Industries, Global Automation & Manufacturing Summit, OPC Foundation and TRAM Aerospace.
West Building Special Attractions
IMTS partners with Gardner Business Media and GIE Media each show to bring two technology displays to visitors. Modern Machine Shops Top Shops (previously the Advanced Manufacturing Center) was the place for shop owners and managers to talk with one another about the tools and technologies they use to succeed.
"We call this attraction Top Shops because its not just a way to talk about new products and new process technology, but because its a way to celebrate and bring to life the real people that have actually adopted them and are pushing us forward," said Dave Necessary, Director of Marketing & Events, Gardner Business Media. "Visitors found the demonstrations competitive in a constructive way, focusing not on what they might be doing wrong, but on what they should be doing thats right.
Todays Technology Center (TTC), presented by GIE Media, showcased how technologies on display throughout IMTS come together to produce end results in the aerospace, automotive, energy and medical sectors. Highlights included an Airbus H-130 helicopter, a General Motors Cadillac CT6 with mixed material structure and a 2016 Chevy Camaro hybrid created by engineering students at Ohio State (the Camaro "EcoCar3" gets 63 miles per gallon yet still accelerates from 0 to 60 in less than 5.6 seconds).
"The vehicles demonstrate how the latest technologies are being used inside the manufacturing world, whether its through lightweighting, use of unique materials and new engine designs," says Mike DiFranco, Group Publisher, GIE Media.
Running for a Cause
As dawn broke over Lake Michigan on the Wednesday of IMTS week, more than 320 runners were lined up for the Miles for Manufacturing 5K run/walk hosted by IMTS and GIE Media. The runners enjoyed not just a balmy morning and a fantastic view of Chicagos skyline, they enjoyed the good feeling that comes with running for a cause. All proceeds from the event are donations in the form of cash or equipment to the following schools and community-based STEM organizations: Chicago Public Library Foundation, Project SYNCERE and Chicago Public Schools (CPS) STEM Initiative.
"The idea for this event started a few shows ago when four of us went out for a morning run," said Mike DiFranco Group Publisher, GIE Media.
"We got back, and other people said, 'I wish I would have known. I would have joined you. Seeing that more people were interested, we organized a run where 100% of the proceeds would go toward furthering manufacturing education." A great cause, and who doesnt need to burn a few extra calories after eating all the good food in Chicago?
Co-Located Shows Increasingly Popular
"The five co-located events powered by HANNOVER MESSE at IMTS 2016 were a hit with IMTS visitors," said Larry Turner, President/CEO of Hannover Fairs USA. "Attendees across all five shows told us they visited our industrial events and conferences to secure digital manufacturing tips, to source Industrial Internet of Things solutions and to meet key companies and thought leaders in the Industrial Automation, Motion Drive, Fluid Technology, Surface Treatment, Air & Vacuum Technology and Industrial Supply sectors."
All show exhibitors reported that they exceeded their new business lead expectations from qualified buyers looking to source new products and technologies launched at the five shows. "We more than doubled our exhibition space this year and expect to increase our footprint again in two years due to repeat bookings for exhibition space at IMTS 2018," said Turner.
No Substitute for a Personal Experience
Whether they spent one day or six at the show, visitors leave IMTS inspired by new technology, satisfied that they found unexpected solutions to manufacturing challenges and fulfilled by the connections they made with industry representatives.
"IMTS represents a whos who of innovation. If you can dream about an application, IMTS 2016 showcased the products, processes and technologies that will bring it to life," said AMTs Peter Eelman.
First Deadlines for IMTS 2018
IMTS 2018 will be held at McCormick Place Sept. 10 - 15, 2018. Space application forms are available at IMTS.com/apply. October 12, 2016, is the submission deadline to be included in the initial space assignment.
Conversations within the IMTS community are continuing on social media:
@ Twitter: @IMTS_2016 or #IMTS
LinkedIn: The IMTS LinkedIn Group
Facebook: https://www.facebook.com/IMTS.show
Media Notes
Download the IMTS 2016 logo and photos - IMTS.com/media
Leading up to IMTS 2016, we featured members of the IMTS community who shared what the show means to them. Read more at www.IMTS.com/WeAre
View the IMTS 2016 floor plan - IMTS.com/floorplan
Watch IMTS YouTube Channel - youtube.com/imtsvideos
IMTS — International Manufacturing Technology Show
The largest and longest running manufacturing technology trade show in the United States is held every other year at McCormick Place in Chicago, Ill. IMTS 2018 will run Sept. 10-15. IMTS is ranked among the largest trade shows in the world. Recognized as one of the worlds preeminent stages for introducing and selling manufacturing equipment and technology, IMTS attracts more than 115,000 visitors from every level of industry and more than 120 countries. IMTS is owned and managed by AMT - The Association For Manufacturing Technology. www.IMTS.com
AMT — The Association For Manufacturing Technology
Representing U.S.-based builders and distributors of manufacturing technology, AMT is the voice of an industry that is critical to providing what U.S. manufacturing needs to be productive and innovative. Located near the nation's capital, AMT is the industrys voice for policies and initiatives that increase global competitiveness, speed the pace of innovation, and support the development of an advanced manufacturing Smartforce. AMT is a leading expert in industry data and intelligence as well as international business development, and is the owner and producer of IMTS - The International Manufacturing Technology Show, the premier manufacturing technology event in North America. www.AMTonline.org
Featured Product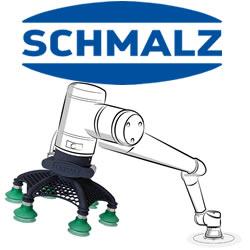 In order to interact with their environment and perform the tasks, lightweight robots, like all industrial robots, depend on tools - and in many cases these are vacuum grippers. These form the interface to the workpiece and are therefore a decisive part of the overall system. With their help, the robots can pick up, move, position, process, sort, stack and deposit a wide variety of goods and components. Vacuum gripping systems allow particularly gentle handling of workpieces, a compact and space-saving system design and gripping from above. Precisely because the object does not have to be gripped, the vacuum suction cupenables gapless positioning next to each other.