DesignCokhi, an online portal that provides specific support to mechanical design engineers, has now joined the TraceParts Publishing Network so as to seamlessly integrate TraceParts' entire CAD content on its website, thereby making millions of supplier-certified 3D CAD models available to its 20,000 members.
Saint-Romain, France - 28 September 2016 - TraceParts, one of the worlds leading providers of 3D digital content for engineering, and DesignCokhi, a website that provides mechanical engineers with support for their design projects, have teamed up to give the DesignCokhi user-community access to one of the largest CAD content libraries in the world.

When Navada Do - the founder of DesignCokhi and a mechanical design specialist - began thinking about how he could provide even greater support to his community of mechanical-design engineers, offering supplier-certified CAD models for download came right at the top of his list.
DesignCokhi had been offering design tips, technical articles and access to engineering magazines for many years already, when Navado Do decided to contact TraceParts. When the partnership was concluded, it took him just one week to integrate the content of the TraceParts CAD platform into the DesignCokhi website. The addition of DesignCokhi to the TraceParts Publishing Network means that the technical and CAD data from the TraceParts CAD platform is now shared with over 15 million designers worldwide.
Navada Do also commented about his prior experience of working with TraceParts as a mechanical designer: "I have been using TraceParts for years. The platform always helped me to choose the right standard parts for the projects I handled for various automotive and packaging machine customers. Downloading 3D CAD models is really so simple and it really enabled me to deliver my projects on time!"
This website integration now allows 20,000 additional users from the DesignCokhi community to significantly speed up their design process and choose the parts they need from over among 100 Million CAD models.
You can see the CAD content integrated on the DesignCokhi website at www.mechtoday.com/traceparts-1.html
Engineering companies, design support platforms, CAD software vendors and any other companies interested in joining the TraceParts Publishing Network can contact TraceParts at info@traceparts.com or visit traceparts.com/tppn
About TraceParts
TraceParts is one of the worlds premier suppliers of 3D digital content for engineering applications. Part of the Trace Group founded in 1989, the company delivers powerful web solutions, such as CAD parts libraries, e-catalogs and product configurators. TraceParts also provides digital marketing services to help parts manufacturers, software vendors and IT hardware suppliers promote their products and services, while generating top-tier B2B prospects.
The TracePartsOnline.net portal is available free of charge to millions of CAD users worldwide, with access to hundreds of vendors catalogs and over 100 million CAD models and data sheets geared towards design, procurement, manufacturing and maintenance processes.
Featured Product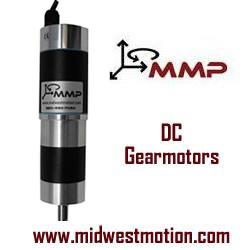 Midwest Motion Products, Inc. (MMP), is a well-established, healthy, & growing Family Owned Business, founded in 2001. MMP specializes in cost-effective standard DC Gearmotors, Motors, Controls, and ancillary equipment. Known world-wide for our "Lightning Fast" delivery capabilities, you can have a Standard Planetary or Right Angled DC Gearmotor BUILT and SHIPPED, often on the very same day you call. Offering Brushed and Brushless designs, with winding voltages ranging from 12 VDC to 120 VDC, we can deliver your "Robust & Reliable" samples within HOURS, instead of weeks, or even months.