Partnership with Carnegie Robotics Enables Intelligent Cleaning Products
COPENHAGEN, Denmark and PITTSBURGH, Oct. 4, 2016 /PRNewswire/ -- Nilfisk today announced The Horizon Program, a pioneering global program that will deliver the most intelligent and technologically advanced cleaning solutions in the industry. Working with Carnegie Robotics, LLC, the leading provider of advanced robotics sensors and software, Nilfisk's Horizon Program is a strategic, long-term program of multiple product launches, the first to be released in 2017.

The Horizon Program focuses on bringing state-of-the-art, autonomous cleaning technologies to market, enabling customers to deploy unmanned floor cleaning with accuracy and precision. These new products will provide the full spectrum of autonomous capabilities, so customers can experience self-operating, driverless cleaning options that meet their every need.
In its 110-year history, Nilfisk has blazed the trail at every turn, bringing ingenuity together with practical applications to serve customers and their business objectives. The program is dedicated to developing intelligent and connected cleaning products, giving customers greater control and more flexibility, and fundamentally changing the way they clean. The Horizon Program will set the standard and lead the way for all intelligent equipment going forward in the commercial cleaning industry.
"With The Horizon Program, our sights are set on bringing about fundamental change in cleaning. Consistent with our history, Nilfisk is continuously responding to the changing needs of markets and customers with innovative products and solutions. With The Horizon Program, we are setting a course for a long-term, strategic program of autonomous and connected cleaning solutions and putting forth the most sophisticated technology that will completely redefine how we look at productivity and total cost of ownership. Our view of the future is one that makes incredible strides in cleaning technology," said Jonas Persson, President and CEO of Nilfisk.
Nilfisk's work with Carnegie Robotics is like no other partnership in the industry. This team brings together the highest levels of expertise in robotics and commercial cleaning to design and develop state-of-the-art autonomous cleaning solutions.
"With Nilfisk and Carnegie Robotics, we are combining a century of cleaning expertise with machine vision and autonomous technologies proven to work safely in unstructured environments such as military operations, agriculture and mining. From the beginning, our partnership has focused on thorough, intensive research and exhaustive, rigorous testing to develop the most sophisticated, highest functioning autonomous cleaning products the industry has seen to date," said Steve DiAntonio, President and CEO of Carnegie Robotics.
The first product to launch in Spring 2017 in select markets will feature an optionally manned scrubber/dryer—one that can be, at the customer's choice, autonomously or manually operated. It will include highly refined features designed to increase productivity, its design promises reliability and safety, and the product is very easy to use. With only three buttons, there is minimal training required to operate it. Nilfisk will showcase this first product in The Horizon Program at the ISSA Trade show October 26-28, 2016 where customers will have the opportunity to experience it live.
ABOUT NILFISK
Nilfisk is one of the world's leading manufacturers of professional cleaning equipment. For over 100 years, Nilfisk has been committed to making the world a cleaner place, and the company offers only the very best in cleaning solutions and technologies to millions of businesses and homes around the world. Nilfisk has sales companies in 45 countries, and its products and services are used in more than 100 countries across the world. Nilfisk is a part of the NKT Group. Learn more at www.nilfisk.com
ABOUT CARNEGIE ROBOTICS, LLC
Carnegie Robotics, LLC (CRL), is an ISO 9001:2008 certified supplier of reliable and advanced robotics sensors and platforms for defense, agriculture, mining, infrastructure, and commercial applications. CRL has grown steadily since its founding in 2010 by fulfilling the increasing demand for reliable and environmentally robust components that provide perception and intelligence for autonomous systems. In addition, CRL partners with major equipment suppliers to deliver disruptive, automated systems to traditional markets. For more information on CRL, visit www.carnegierobotics.com.
Featured Product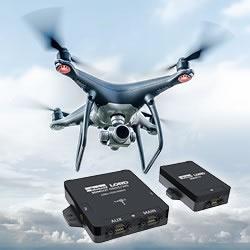 The new complete inertial navigation solution comes with GNSS/INS 3DMGQ7 sensor, 3DMRTK correction modem and real time SensorCloud RTK correction network. The sensor comes with Dual antenna GNSS, tactical grade IMU with centimeter-level accuracy with RTK. Low profile and light weight at 78 grams, this sensor is The sensor is optimized for size and weight in Unmanned Ground Vehicles, mobile robots and autonomous vehicles. The network interface 3DMRTK modem is seamlessly integrated into the 3DMGQ7 sensor supports industry-standard NMEA and RTCM 3.1 protocols. The network RTK support comes with cellular data plan. The SensorCloud RTK is a cloud-based RTK correction system with private encrypted data stream. Check out our G Series and C Series OEM products.