Roboming Fellow is a groundbreaking interactive personal robot assistant for companionship, home security, and convenience produced by Streamind Co. Ltd.
SHANGHAI, Oct. 11, 2016 /PRNewswire/ -- Roboming Fellow is a groundbreaking interactive personal robot assistant for companionship, home security, and convenience produced by Streamind Co. Ltd.

In the age of electronics, there is no shortage of home accessories and gadgets to make getting things done around the house easier. But with Roboming Fellow, home security and assistance just got a lot more fun and friendly. This personal robot will change the way people think and live, adding useful features and peace of mind along with a little warm companionship.
Roboming Fellow is more than a helpful gadget, it's an advanced smart system that handles many tasks around the home. It uses a sophisticated scanning system and radar for mapping, positioning and collision avoidance so that it learns a home's layout perfectly. This system allows it to act as a delivery system, knowing every room and area in a home. It is easy to control by app or voice and can carry small objects to any room in the house and can even follow its owner around like a faithful friend.
One of the biggest trends in tech today is giving people simple solutions for home security. Busy folks need to go about their day without worrying about the safety and security of their home. With Roboming, there is always a set of eyes at home. Roboming can provide vigilant home security by doing pre-set sweeps of the home or by remote control while providing real-time video images and recording. Users can return to their homes knowing they are safe and that there is a friendly Fellow waiting to greet them.
Another situation that people struggle with is leaving their beloved pets alone all day during work hours. Roboming was designed with a solution to this problem. It can be controlled by app to check on pets or deliver food or treats. It can follow pets around as a companion and even includes a cat-friendly laser pointer to provide lonely pets with hours of playtime. With Roboming, owners will never have to worry about leaving their furry friends alone.
The team behind Roboming are developers and robotics experts who recognized that people have modern problems to solve but found that common electronic devices are unimaginative and impersonal. Their goal was to create an ecosystem of tech products that add convenience to peoples' lives while at the same time having some emotion, usefulness and fun. Roboming achieves all of the above, with advanced robotics and smart tech features for usefulness and a lovable personality for a more friendly approach to modern living.
Roboming is currently being launched via an Indiegogo campaign so the company can reward their community of early adopters with special deals and pricing.
Indiegogo campaign link: http://igg.me/at/roboming
Roboming website: http://www.roboming.com
Featured Product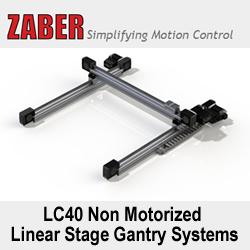 Zaber's X-LRQ-DE Series of linear stages have high stiffness, load, and lifetime capabilities in a compact size. The integrated linear encoder combined with stage calibration provides high accuracy positioning over the full travel of the device. At 36 mm high, these stages are excellent for applications where a low profile is required. The X-LRQ-DE's innovative design allows speeds up to 205 mm/s and loads up to 100 kg. Like all Zaber products, the X-LRQ-DE Series is designed for easy set-up and operation.