The university in Stuttgart combines bionic investigations with innovative robotic manufacturing methods.
The university in Stuttgart combines bionic investigations with innovative robotic manufacturing methods.

The robot assists by fixing the bent strips of plywood in the desired geometrical configuration and then guiding them through the sewing machine. By performing this work step, the KUKA robot of the KR QUANTEC series helped to build the new research pavilion at the University of Stuttgart. For the first time, the Institute for Computational Design (ICD) and the Institute of Building Structures and Structural Design (ITKE) used industrial sewing technologies for wooden construction.
The design of the extremely lightweight wooden shell was based on the structural morphology of the sand dollar. Sand dollars are a subspecies of sea urchin. This model was chosen because it is particularly suitable for the technical transfer of construction and educational principles.
INNOVATIVE WOOD JOINTS WITH ROBOTIC SEWING TECHNOLOGY
The starting material was thin strips of veneer. These were laminated to form flat, individually manufactured plywood boards. This enabled elastic deformation of the construction elements. Following this process step, the KUKA robot got in on the act. It assisted by fixing the bent plywood strips in the specified geometrical configuration. During the subsequent sewing process, the robot guided the bent strips through the sewing machine and joined them together. The robot controller and sewing machine controller were linked together by means of specially programmed software. This interface enabled the robot to recognize both the current position of the workpiece and the status of the sewing machine at all times and also to synchronize the motion.
KUKA INDUSTRIAL ROBOT ENABLES INNOVATIVE MANUFACTURE OF LARGE WOODEN CONSTRUCTIONS
For the pavilion, the industrial robot prefabricated a total of 151 different segments. They have bending radii of between 30 and 75 cm. This lightweight construction weighs 780 kg, spans a distance of 9.3 m and covers a total area of 85 m². All in all, this new research pavilion demonstrates how the interactions between material, form, space, supporting structure and robotic manufacture can give rise to innovative wooden constructions.
Featured Product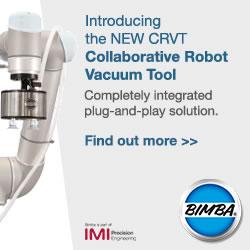 The NEW Collaborative Robot Vacuum Tool (CRVT) from Bimba adds unparalleled flexibility to your collaborative robot. The standard CRVT is highly configurable to meet your application needs, but simple to install and operate. This fully integrated tool means all you need to supply is compressed air and a signal to control the valve. A variety of standard and custom options make the Bimba CRVT the perfect tool for your next collaborative robot project.