Showcasing at VISION 2016, GigE® Vision over NBASE-T embedded video interface brings bandwidth and cabling advantages to established and emerging real-time imaging applications
Pleora Technologies, the worlds leading supplier of high-performance video interfaces, today unveiled the first solution that brings the bandwidth and Cat 5e cabling advantages of NBASE-T technology to the vision industry. Leading X-ray flat panel detector (FPD) and camera manufacturers are already designing Pleoras GigE Vision over NBASE-T video interface hardware into advanced imaging devices for medical and machine vision applications. Pleoras GigE Vision over NBASE-T expertise will be showcased with live demos and technical presentations at VISION 2016, taking place Nov. 8-10, 2016 in Stuttgart, Germany.

"Pleora has set a new performance benchmark for the imaging industry," said Harry Page, president, Pleora Technologies. "With our NBASE-T embedded video interface hardware, manufacturers can meet challenging bandwidth and cost requirements for advanced imaging devices with an easy-to-integrate solution that significantly reduces design time, cost, and risk."
The NBASE-T specification, compatible with the recently adopted IEEE 802.3bz™ standard, defines a new type of Ethernet signaling that boosts the speed of Cat 5e and Cat 6 cables well beyond the previous limit of 1 Gbps. The NBASE-T Alliance™ - a consortium of over 45 companies including Pleora - represents all major facets of networking infrastructure and helped streamline the development of the new standard.
The iPORT™ NTx-NBT Embedded Video Interface hardware provides a cost-effective upgrade path for imaging device designers by supporting faster 5 Gbps transfer of GigE Vision-compliant images over existing Cat5e cabling in retrofit installations, or inexpensive cabling for new systems. The video interface is supported by a fully featured development kit that helps speed the design of prototypes and proof-of-concept demonstrations, often without requiring hardware development.
While competing approaches require specialized cabling and expensive networking components, the iPORT NTx-NBT is a natural evolution for high-performance imaging thanks to its bandwidth flexibility, low-cost field-terminated cabling, multicasting support, and compatibility with existing GigE Vision software. With IEEE standardization and accelerating adoption of NBASE-T technology in traditional networking applications, reliable hardware is increasingly available for imaging system manufacturers.
"Pleoras latest video interface brings the proven connectivity and cost benefits of NBASE-T technology to the imaging market, and demonstrates the broad applicability of the technology," said Peter Jones, chairman of the NBASE-T Alliance. "The recent ratification of the IEEE standard, along with an existing ecosystem of shipping products, dramatically simplifies the adoption of this technology. It enables a broad range of industries to immediately leverage the added bandwidth provided by NBASE-T, without the expense and difficulty of replacing Ethernet cabling."
Learn More about NBASE-T at VISION 2016
Pleora will be showcasing its NBASE-T video interface expertise at VISION 2016 (Nov. 8-10, Stuttgart, Germany - Hall 1 Stand F 31). Rauscher GmbH (Hall 1 Stand E 32) and e2v (Hall 1 Stand E 17) will also be demonstrating new line scan cameras integrating Pleoras NBASE-T interface.
John Phillips, product manager with Pleora, will be presenting NBASE-T technology as a new interface for the imaging market during Industrial VISION Days 2016 on Wednesday, Nov. 9 at 10 a.m. (Stage 2, gallery hall 1, booth Z75).
Availability
The iPORT NTx-NBT Embedded Video Interface hardware is now in design with lead customers, with production release and development kit availability scheduled for mid-December. For more on the iPORT NTx-NBT Embedded Video Interface visit www.pleora.com/our-products/embedded-hardware/iport-nbase-t.
Featured Product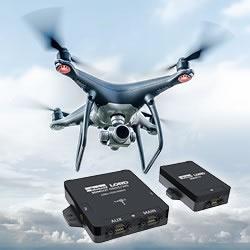 The new complete inertial navigation solution comes with GNSS/INS 3DMGQ7 sensor, 3DMRTK correction modem and real time SensorCloud RTK correction network. The sensor comes with Dual antenna GNSS, tactical grade IMU with centimeter-level accuracy with RTK. Low profile and light weight at 78 grams, this sensor is The sensor is optimized for size and weight in Unmanned Ground Vehicles, mobile robots and autonomous vehicles. The network interface 3DMRTK modem is seamlessly integrated into the 3DMGQ7 sensor supports industry-standard NMEA and RTCM 3.1 protocols. The network RTK support comes with cellular data plan. The SensorCloud RTK is a cloud-based RTK correction system with private encrypted data stream. Check out our G Series and C Series OEM products.