STOBER Drives, Inc.'s PS Two Speed Gearbox has the ability to generate both high speed and high torque, which is ideal for lathes or machining centers.
MAYSVILLE, Ky., Nov. 1, 2016 /PRNewswire/ -- STOBER Drives, Inc.'s PS Two Speed Gearbox has the ability to generate both high speed and high torque, which is ideal for lathes or machining centers.

The Maysville, Kentucky gearbox manufacturer has introduced the new gearbox for the machine tool industry.
The PS Two Speed gearbox features two different options, from a direct drive to customer ratio choice. The 1:1 ratio direct drive can be used for high-speed cutting up to 10,000 RPM. The customer can choose from two ratios, 4:1 or 5.5:1, that are capable of turning at 7,000 RPM. This allows the customer to use a 1:1 ratio for low torque high speed cuts and the 4 or 5.5:1 ratio for high torque lower speed cuts.
"This gear box was designed for easy motor mounting," said Tyler Mattingly, applications engineer at STOBER. "Simply slide the motor shaft into the input coupling, bolt the motor to the gearbox, and torque the coupling accordingly."
STOBER offers two different output types: shafted and flanged, with three different versions of each utilizing a short, medium, or long output. This allows STOBER to customize the product for customer applications, he added.
Three different bearing options for the output means even more customization options for an application. There is an option for a standard deep groove ball bearing; an angular contact bearing; or cylindrical roller bearings, depending on the loads produced by a customer application. There are two different sizes to fit a variety of motors: the PS 25 and the PS 30. Utilizing these design features, this family of gearboxes is capable of up to 2,200 Nm worth of torque.
There are several advantages to STOBER PS2 Speed gearbox, said Mattingly.
"The easy motor mounting means you can be up and running in minutes compared to hours," he said. "The option for a true neutral position isolates the input from the output. This means no back driving large spindle motors. During the 1:1 direct drive, we actually disengage the planet carrier for greater efficiency, so no back driving of the gearing is needed.
"Finally, we are capable of running in a motor-up orientation using only splash lubrication. This eliminates using an oil circulation system, which will save customers money."
For any questions regarding the PS Two Speed gearbox, or help sizing applications, contact Mattingly or visit www.stober.com.
About STOBER™ Drives, Inc.:
Established in 1991, STOBER™ Drives, Inc. is a U.S. company with a 75-year German heritage. STOBER specializes in quiet, efficient, and durable gearboxes. With two unique lines in motion control and power transmission, STOBER has expanded into the global market for a wide variety of applications including robotics, material handling, packaging, food and beverage, machine tool, medical equipment, semiconductor manufacturing, aerospace equipment, printing, and general automation application. With excellent customer support, extended warranties, one day delivery, and exceptional products, STOBER is "geared to a higher standard!"
Featured Product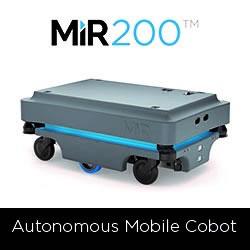 MiR200 is a safe, cost-effective mobile robot that automates your internal transportation. The robot optimizes workflows, freeing staff resources so you can increase productivity and reduce costs. MiR200 safely maneuvers around people and obstacles, through doorways and in and out of lifts. You can download CAD files of the building directly to the robot, or program it with the simple, web-based interface that requires no prior programming experience. With its fast implementation, the robots offers a fast ROI, with payback in as little as a year.