The market leader in collaborative robots will showcase highly flexible application platforms enabled by the easy programmable "cobots."
Ann Arbor, Michigan, November 10, 2016: The collaborative robot arms from Universal Robots are increasingly being implemented in applications addressing the metal fabricating industry. At Universal Robots FABTECH booth N-1804 in Las Vegas November 16-18, new applications will be exhibited by the companys sales channel partners:

CleanLogix LLC, an OEM partner with Universal Robots, will showcase an automated spray cleaning system for applications such as machine tool tending, in-situ cleaning over a conveyor, benchtop spray cleaning, and confined space surface preparation. Using an end-of-arm spray applicator, a UR3 robot will simulate automated CO2 spray cleaning in combination with their latest GENESYS spray generation system for precision cleaning or cooling-during-machining. Eco-friendly CO2 dry cleaning and cooling technology can transform manufacturing applications in numerous precision fabrication markets.
"Universal Robots has enabled us to create new automated and highly flexible platforms using our patented CO2 Composite Spray™ technology to expand our market reach into small and confined space precision cleaning and cooling applications," says David Jackson, President of CleanLogix. Preferred System Integrator of the UR cobots, 3D Infotech Inc. will showcase two automated 3D scanning and inspection solutions utilizing a UR3 and UR5 cobot. 3D Infotechs Streamline automation software will demonstrate how easy it is to operate and automate quality control, greatly reducing inspection cycle times. 3D Infotech supports a variety of 3D scanners for high-speed, high accuracy, and high resolution data capturing on complex parts. "New designs, new manufacturing processes give rise to various tolerances and requirements for inspecting parts. We have developed a unique approach to rapidly deploy metrology automation solutions for aerospace, automotive and consumer electronics industries, combining the best in breed 3D vision hardware with Universal Robots, using our very own Streamline automation software and the acclaimed PolyWorks inspection software," says Rohit Khanna, President, 3D Infotech Inc.
A third application on display will be a UR5 robot loading and unloading a plasma cutting machine in an application showcased by Axis International Inc. Douglas Peterson, General Manager of
Universal Robots Americas Division, looks forward to sharing these applications with the FABTECH audience.
"We see a collaborative robot as a tool on demand as needed - one that can quickly be transitioned between a wide variety of automated tasks in the metal fabricating industry. Flexibility in manufacturing involves ability to deal with variation in volumes, design and material handling as well as variations in the process sequences. We look forward to showcasing these important capabilities at FABTECH," says Peterson.
Unlike investments in traditional robotic cells that are caged, pre-programmed and designed for a single purpose, the multi-purpose UR robot offers a lower threshold for investment and offers more possibilities over the life of the investment. The robot arms can be plugged directly into a wall outlet and are so easy to program and set up that the typical "out of box experience" is less than an hour. With more than 10,000 UR cobots now deployed worldwide, Universal Robots has a 60 percent share of the cobot market and has documented the production benefits in a wide range of metal and machining case studies.
About Universal Robots Universal Robots is the result of many years of intensive research at Denmark's successful robot cluster, which is located in Odense, Denmark. The company was co-founded in 2005 by the companys CTO, Esben Østergaard, who wanted to make robot technology accessible to all by developing small, user-friendly, reasonably priced, flexible industrial robots that are safe to work with and on their own can be used to streamline processes in the industry. The product portfolio includes the collaborative UR3, UR5 and UR10 robotic arms named after their payload in kilos. Since the first UR robot launched in December 2008, the company has experienced considerable growth with the user-friendly robots now sold in more than 50 countries worldwide. At just 195 days, the average payback period for UR robots is the fastest in the industry. The company, a part of Boston-based Teradyne Inc., is headquartered in Odense and has subsidiaries and regional offices in the U.S., Spain, Germany, Singapore, Czech Republic, India, and China. Universal Robots has more than 300 employees worldwide. Learn more at: www.universal-robots.com.
Featured Product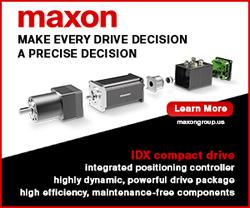 The compact brushless EC-i motor combined with an EPOS4 positioning controller delivers a highly dynamic, powerful drive package with field-oriented control (FOC), high efficiency, and maintenance-free components in a high-quality industrial housing. The maxon IDX drives are suitable for use across the entire speed range (from standstill to maximum speed) and have an extremely high overload capability. Together with a positioning controller, the integrated sensor (single turn) enables absolute positioning.