Industry leading app suite for sophisticated autonomous drone control is acquired by aerial data company Hangar, founder to join team as Hangar CTO and co-founder.
Hangar, the Austin, TX based technology company developing an autonomous data capture ecosystem for drones, today announced it acquired Autoflight Logic, the maker of the most popular 3rd party flight automation software for DJI drones. Autoflight Logic boasts over 150k autonomous flights in over 190 countries flown using its ground control software. The software supports multiple popular drone platforms such as the Phantom 3, Phantom 4, Inspire and Matrice, and Autoflight Logic recently announced support for the brand new DJI Mavic. Autoflight software has enabled advanced drone operations that range from unmanned flights over Chernobyl to feature Hollywood filming, as well as thousands of commercial flights worldwide.

Autoflight Logics app suite includes Autopilot, Autoframe and Airspace. Autopilot, the companys flagship software is a ground control station that provides autonomous and semi-autonomous flight modes for DJI drones, enabling drone owners to execute flight and camera control sequences that were previously too difficult or impossible to perform manually. Airspace is networking software that allows multiple devices to share location and motion data and control drones and their focus points for various applications. Autoframe is a tracking technology that utilizes Airspace to integrate multiple mobile devices for point-of-interest based auto-tracking and camera control to capture autonomous data. All of these services function across the DJI drone ecosystem, taking advantage of the DJI Mobile SDK.
"Autoflight was one of the first development teams to take advantage of the DJI Mobile SDK. They have always been a great example of what is possible using DJIs hardware and SDK platform, and Im excited to see what the next chapter brings!" said Robert Schlub, Vice President of R&D at DJI Global.
The existing software will continue to be sold and supported for current users, and the development team will all join Hangar where founder Jim McAndrew, a passionate flight systems, machine learning and automation engineer, will serve as CTO. "The original vision of Autoflight Logic was to make professional aerial data capture accessible to any individual or organization, regardless of training or size. Joining forces with Hangar is the perfect opportunity to fully realize this vision in a much broader context. By placing the core software from Autoflight Logic at the center of a global network of drones, Hangar is positioned to become the first robots-as-a-service platform. Need to deploy a sensor or move something around? There's an API for that: Hangar," said McAndrew.
"We said wed come out of the gate with an aggressive plan to bring the best technology in the drone space together with our vision for an aerial data acquisition ecosystem, and thats exactly what weve done here," said Colin Guinn, President of Hangar. "Autoflight Logic didnt just make the most popular GCS for drones in the world, they also created software breakthroughs with Autoframe and Airspace that show they truly understand the future of aerial technology. What well achieve together will transform global commerce."
Autoflight Logics software will be a core component of the technology stack needed to actualize Hangars mission of creating an automated ecosystem for drones. By turning pixels captured by drones into actionable information and intelligence, Hangar is building a software stack to provide critical data faster and cheaper than ever before to clients in engineering, infrastructure, development and beyond.
"The team from Autoflight Logic will be instrumental in developing a critical piece of our larger Hangar software platform. Advanced mission planning and complex autonomous control for multiple aerial and ground devices is just the first kernel in our plan for revolutionizing autonomous data capture," said Jeff DeCoux, CEO of Hangar.
Drone owners are invited to sign up for Hangars private beta at hangar.com/beta/.
Interested DJI drone owners on iOS can download Autopilot here: https://itunes.apple.com/us/app/id963963805?mt=8&ign-mpt=uo%3D4.
About Hangar
Hangar is building an automated ecosystem for drones to deliver fast, professional aerial data across industry. Using a proprietary autonomous flight engine deeply integrated with the worlds top selling drones, Hangar allows a worldwide network of pilots to safely and professionally acquire data. This data is processed and analyzed using proprietary and market leading technology to deliver actionable results to our clients.
Featured Product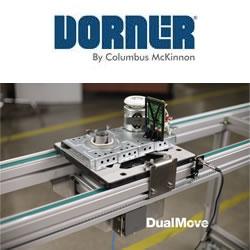 Dorner's 2200 Series Precision Move Pallet Systems are ideal for assembly automation. With features such as an innovative timing belt conveyor design and industry best pallet transfers, they get your product to the exact location, at the exact time and in the exact position it needs to be. They are now available with new options such as heavy load corner modules with 150 lb. capacity and 180 degree tight transfer corners for compact loops.