On October 10, 2016, the Commercial Court of Rennes acknowledged that Mr. Quibel and Robot Access Services engaged in passing off and unfair competition against RobotShop by operating robotshop35.com
On October 10, 2016, the Commercial Court of Rennes acknowledged that Mr. Quibel and Robot Access Services engaged in passing off and unfair competition against RobotShop by operating robotshop35.com and ordered them to stop using this domain name with a penalty of €5,000 per week.

The 27-page judgment details the arguments of each party lengthily and broadly, and the judge essentially retained the following in his conclusion:
Considering that passing off is a common law tort and a statutory cause of action and that it involves unfair competition from an economic agent when it seeks to undeservedly appropriate themselves of reputation or knowledge of a competitor by creating confusion in the minds of the customer between his product or his brand and that of the latter;
Whereas RobotShop has built its business model around a single distribution channel, namely a website for online sales of technological products and in particular of domestic robots as well as the associated after-sales services and spare parts, all accompanied by blogs and forums for users interested in robots; Notwithstanding the growing interest in these products, which is increasingly being democratized, it should be emphasized that this activity is a niche for initiated consumers; That RobotShop Inc. has since its commencement in 2003 based its business strategy around its worldwide web site, accessible on the web starting from the domain name www.robotshop.com conceptualizing an original and innovative model based on three axes of differentiation: an offer for domestic robots, after-sales services, a powerful web community;
Whereas the conflict between parties are mainly a concern of registration dates of their domain names and the actual exploitation of their commercial websites and that Robot Access Services has registered its domain name "www.robotshop35.com" in 2009, well after RobotShop Inc.;
Whereas it is incontestable that RobotShop Inc. operated a website for online sales of robots as of the year 2003 and well before the date of exploitation of its site by the company Robot Access Services, this company having been created on November 26, 2012, by Mr. Quibel ;
Whereas, by nature, the Internet is global; That this technology knows no borders and that this is what economic operators are looking for;
Whereas Mr. Quibel knew perfectly well the existence of the site "www.robotshop.com" for having had communications with representatives of RobotShop Inc. But also for having placed orders on their site;
Whereas Mr. Quibel having wanted to create his own activity, the object of which is exactly the same as that of RobotShop Inc., used exactly the same domain name as his competitor by simply adding number 35;
Whereas Mr. Quibel has obviously not chosen his domain name by chance and has certainly sought to take advantage of the notoriety of the site "www.robotshop.com" by maintaining a confusion between the domain names of their websites;
Whereas RobotShop Inc. contributes to the debate, a number of studies and articles showing that it benefits from a global reputation in the domestic robot market and has invested heavily since 2003 to build its business and reputation;
Whereas it cannot be seriously disputed that an economic player wishing to create exactly the same activity as another and taking exactly his trade name, which suggests to the consumer that he is the distributor or local representative of the former, is an act characterized of passing off and unfair competition and in this case is intentional and voluntary;
Whereas Mr. Quibel has all the leisure in choosing another name for his commercial activity;
RobotShop is pleased to have won this battle and have created an important precedent in favour of the RobotShop brand. Several other websites around the world use the name RobotShop as a domain name for purposes identical to the business model of RobotShop. RobotShop will continue to defend its name and its assets on the Internet.
Here is the list of official international RobotShop websites:
http://www.robotshop.com/ (USA and International)
http://www.robotshop.com/ca/ (Canada)
http://www.robotshop.com/fr (France)
http://www.robotshop.com/uk (UK)
http://www.robotshop.com/eu (Europe)
http://www.robotshop.com/jp (Japan)
Featured Product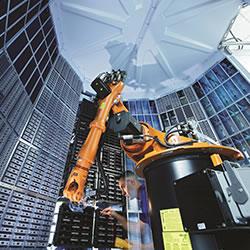 The industry's first comprehensive Robot Integrator Program saves robot integrators significant time and cost investments by allowing them to mark each cell compliant with ANSI/RIA R15.06 with the TUV Rheinland Mark. As opposed to a traditional certification or an on-site field labeling, TÜV Rheinland's Robot Integrator Program certifies the knowledge and skill-set of robot integrators in addition to testing robotic cells and processes against ANSI/RIA R15.06. This reduces the need for frequent onsite or off site testing and allows manufacturers to apply a single TÜV Rheinland label to multiple cells. The Robot Integrator Program individually assesses a robot integrator's understanding of the ANSI/RIA R15.06 standard along with the ability to consistently produce compliant robot cells. Following the requirements and procedures of the new program will enable robot integrators to produce individually compliant robotic cells under one serialized TÜV Rheinland Mark, which meets the national electric code and allows acceptance by Authorities Having Jurisdiction (AHJ) and end users.