Vidi Systems from Switzerland is the overall Grand Winner of the 2016 Robot Launch global startup competition, beating out many US contestants in a field that included sensors, artificial intelligence, social robots, service robots and industrial solutions.
SILICON VALLEY, CA- Vidi Systems from Switzerland is the overall Grand Winner of the 2016 Robot Launch global startup competition, beating out many US contestants in a field that included sensors, artificial intelligence, social robots, service robots and industrial solutions. Overall, the European robotics startups performed very strongly this year with 8 making The Shortlist for awards. Canada also had good representation with 3 entries, but the rest of The Shortlist were based in the USA, even if they had originated in Israel or Hong Kong.

Switzerland based ViDi Systems provides deep learning vision software dedicated to automated aesthetic inspection & classification for a wide range of applications in pharmaceutical, med-tech, watch Industry, automotive, logistics center, bottling industry, textile, printing, ceramics, photovoltaic etc. Robot Launch judges said that they picked ViDi Systems for their "great early traction, impressive customers, strong team and large market potential", noting that while ViDi Systems were clearly one of the most mature startups in The Shortlist, that they had achieved a lot in a comparatively short period.
Nicolas Corsi, CEO of ViDi Systems said, "I am particularly proud of getting this prize from the Robohub community because it recognizes that our team has developed a truly unique technology that can be applied across industries."
The Robot Launch Grand Winner receives mentorship from Silicon Valley Robotics, Odense Robotics, QUTbluebox and the Australian Center for Excellence in Robotic Vision, connections which, along with the feature on Robohub.org, will be very useful for a startup interested in global expansion.
In contrast, the next most highly ranked startups, Robolink and Franklin Robotics were very young, with Robolink shipping educational robotics from San Diego, drawing on a background growing the local maker community. And Franklin Robotics developing an affordable gardening robot based on team expertize gained as founders at iRobot and Harvest Automation.
Robohub president Sabine Hauert said, "Were delighted at Robohub to be working with Andra Keay to provide Robot Launchers with extra visibility to reach investors, partners, and future users. The quality of the startups this year was impressive, seems that Robot Launch raises the bar year after year!"
All of The Shortlist were evaluated by a team of investors and expert judges from venture capital firms and robotics clusters, including Intel Capital, Grishin Robotics, InnoSpring, PropelX, ElevenTwo Capital, Comet Labs, Root.vc, Singularity Us Explorers Fund and Sony Ventures. Behind the scenes, there are some term sheets being offered to select startups. We cant say more, but we can announce the rankings and other awards.
Odense Robotics and Invest in Odense are offering an incubation award for the Best European Startup team (2 persons) as follows: Travel to / housing in Odense, 1-month for 2 persons in Odense (travel/housing value 1500 USD), access to all Odense Robotics StartUp Hub facilities, Robot Innovation Hall, the other startups in the Hub, for one month (during May / June 2017), preparing for the JUNE PITCH SESSION - for the board of Odense Robotic StartUp Hub where they might be selected as one of two StartUps to enter the Odense Robotic StartUp Hub (12 months).
Joost Nijhoff, Investment Manager at Odense Robotics said: "Were totally impressed by the excellent European Robotics Startups that made The Shortlist. Game changing technologies and great teams of experts - our expectations our high and we are looking forward to welcoming the European winner in Odense, Denmark."
ODENSE ROBOTICS AWARD for EUROPEAN STARTUP:
• Robomotive
• ViDi Systems
• Halodi
• Tactile Robots
• bridgeOS
With special mention of the USA teams:
• Robotics Materials
• Cubits
Silicon Valley Robotics will offer a startup membership to all of The Shortlist, providing introductions to investors in Silicon Valley, access to network events and hosting in the new Robot Launchpad accelerator space. We are also coordinating demo opportunities at expos around the world. Although there were no shortlisted startups from the other regions, QUTbluebox and the Australian Center for Excellence in Robotic Vision will be offering mentorship and 'down under connections to the Robot Launch winner.
The overall top scoring startups were:
1. ViDi Systems
2. Robolink
3. Franklin Robotics
4. Robomotive
5. MOTI: A Robot for Habits
6. Robotics Materials
7. TransRobotics
8. Kamigami Robotics
9. SD3D
10. Foldimate
11. Labs Cubed
12. Halodi
13. Ourobotics
14. Modular Science
15. Parihug
Startups that stood out from the shortlist were the bio robotics startups:
Labs Cubed, Ourobotics and Modular Science
The social robots:
MOTI, Parihug and nominee sciRobot
The service robots:
Franklin Robotics, Halodi and Foldimate
The robot sensors:
Robotics Materials and Transrobotics
The ROS robotics startups:
ViDi Systems, Robotics Materials, Halodi, Choitek, Semio, and bridgeOS
Competition organizer Andra Keay said that the range of startups was always a good indicator of the overall robotics industry growth areas. "I cant wait to see what next year brings. After all, this year we already new industrial applications, bio robotics and several new sensors. We also saw a strong showing from social and service robots, ranging from full humanoids to restaurant delivery robots, from smart devices to software helping robot developers build advanced behaviors."
Finally, after last weeks popular vote, did the Robohub Readers agree with the judges? Not this time. Perhaps there are more hidden gems in The Shortlist:
• Announcing the Robot Launch 2016 Shortlist
• Robot Launch 2016 - Robohub Readers Pick Round One
• Robot Launch 2016 - Robohub Readers Pick Round Two
• Robot Launch 2016 - Robohub Readers Pick Round Three
About Robohub
Robohub is a non-profit online communication network for the international robotics community. With over 80K unique visitors each month, Robohub features news and opinion from experts in all facets of robotics, including research, ethics, law, start-ups, business, arts and education.
About ViDi Systems
ViDi was founded in 2012 by the CPA Group and Dr. Reto Wyss a computational neuroscience PhD. and CTO of ViDi. Building on 9 years of Deep Learning experience, ViDi Suite has been developed to solve industrial vision challenges.
ViDi Suite is a field-tested, optimized and reliable vision software solution based on state-of-the-art set of algorithms in Machine Learning for Machine Vision. Successful applications are in the Pharmaceutical, Medtech, Automotive, Textile, Printing, Logistics and Watchmaking industries.
About Silicon Valley Robotics
Silicon Valley Robotics is an industry association supporting innovation and commercialization of robotics technologies. Our strategy aims; to facilitate networking, fact finding and research between industry executives, potential partners, investors, and customers; to engage in activities that enhance the quality and quantity of the next generation of robotics professionals; to advocate in favor of robotics policies that promote innovation and entrepreneurship; to recognize industry-leading companies and attract thought leaders.
About Odense Robotics
Odense Robotics is the cluster of robotics and automation around the city of Odense, Denmark, a unique eco system consisting of companies, education, research, finance and public partners. As a cluster organization we gather, support and represent the cluster by delivering platforms and tools for: Recruitment - business development - startups - market insight - investor relations - branding. This cluster of robotic technologies fosters innovation from creative conception to industrial production. Being part of this eco system offers ambitious technology companies prime conditions for growth.
###
Featured Product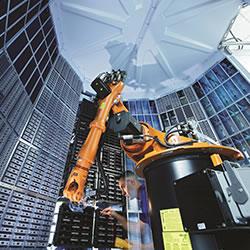 The industry's first comprehensive Robot Integrator Program saves robot integrators significant time and cost investments by allowing them to mark each cell compliant with ANSI/RIA R15.06 with the TUV Rheinland Mark. As opposed to a traditional certification or an on-site field labeling, TÜV Rheinland's Robot Integrator Program certifies the knowledge and skill-set of robot integrators in addition to testing robotic cells and processes against ANSI/RIA R15.06. This reduces the need for frequent onsite or off site testing and allows manufacturers to apply a single TÜV Rheinland label to multiple cells. The Robot Integrator Program individually assesses a robot integrator's understanding of the ANSI/RIA R15.06 standard along with the ability to consistently produce compliant robot cells. Following the requirements and procedures of the new program will enable robot integrators to produce individually compliant robotic cells under one serialized TÜV Rheinland Mark, which meets the national electric code and allows acceptance by Authorities Having Jurisdiction (AHJ) and end users.