Woods Hole Oceanographic Institution (WHOI) engineer Amy Kukulya teamed up with marine biologist and WHOI guest investigator Kara Dodge to use an underwater robot called TurtleCam to track and film leatherback sea turtles in their natural environment. The researchers tagged their first turtle in Massachusettss Vineyard Sound in September 2016 and captured remarkable footage – from cameras on TurtleCam and on the turtle tag – that allows the researchers to record how much a turtle eats as well as how often it breathes.
Kara Dwyer Dodge grew up hearing stories of the sea monster her father pulled from the ocean.

In 1966, Richard Dwyer, a third-generation fisherman in Scituate, Mass., found a sea turtle entangled in the lines of one of his lobster pots. He freed it and brought it back to shore, where the turtle became a minor sensation because no one could remember ever seeing one so large so close to shore. After a couple of days, Dwyer took the turtle far offshore and released it in the Gulf Stream, where he thought it should be, rather than the waters near Cape Cod.
"No one knew then that this is part of their natural range," said Dodge.
Today, the daughter of a fisherman is a marine biologist and guest investigator at Woods Hole Oceanographic Institution (WHOI), studying the behavior of sea turtles as a way to help prevent things such as entanglement in fishing gear. In 2013, she teamed up with WHOI engineer Amy Kukulya, who with colleagues at WHOI's Oceanographic Systems Lab (OSL) had built SharkCam, a system using an autonomous underwater REMUS vehicle to track sharks in the wild. Kukulya joined with biologists Greg Skomal from the Massachusetts Division of Marine Fisheries and Mauricio Hoyos Padilla at the Mexican marine conservation organization Pelagios Kakunjá to tag and follow nearly a dozen sharks in the waters around Cape Cod and Guadalupe Island, Mexico, and reveal previously unknown shark behaviors.
But tracking turtles turned out to be a much more challenging proposition. "Wed never put a suction-cup tag on an air-breather and followed it," said Kukulya. "They tend to yo-yo rather than follow a straight trajectory. We had to develop entirely new algorithms to follow a turtle."
To find funding for the research, they tried WHOIs new crowd-funding platform, ProjectWHOI, plunging into the fast-growing world of social media fundraising. The pair exceeded their $10,000 goal, raising $37,000 in two months from a combination of friends, family, and strangers, corporate contributions, a high school art class, and one particularly generous benefactor. That nest egg allowed Kukulya and Dodge to collaborate with the Massachusetts Division of Marine Fisheries to win a $270,000 grant from the National Oceanic and Atmospheric Atmospheric Administration, which required matching funds.
"This happened because people believed in our approach to get out on the water locally and aid conservation," Kukulya said. "It warmed my heart to see how dedicated people were to our plight."
With the funds, they were able to complete development of TurtleCam, including a redesigned tag with a custom-built release mechanism that Kukulya devised. In September 2016, they succeeded in tagging their first leatherback sea turtle and following it for more than six hours. That trip and three that followed resulted in a trove of video that Dodge is still combing through for insights that will help her help turtles navigate the many hazards that turtles encounter when they are near Cape Cod feeding on jellyfish.
She also has information from a second vehicle that Kukulya simultaneously deployed to gather data on temperature, salinity, biological productivity, and water depth in the water near the tagged animals. "[TurtleCam] is great to collect fine-scale behavior, but we need habitat data to make sense of what we're seeing," said Dodge.
Kukulya is now refining the algorithm that controls TurtleCam to keep a turtle in the field of view longer and to better adapt the vehicle to a turtles behavior. Next summer the two will conduct five more trips in and around Vineyard Sound. Although many North Atlantic populations of sea turtles are stable, their primary threats—entanglement, boat strikes, plastics, coastal development, and climate change—are human-caused and not likely to diminish any time soon. Dodge only has to look to areas in the Pacific, where almost all sea turtle species are in trouble, to see how dire things could become.
"I've dissected a lot of dead leatherbacks," said Dodge. "I don't want to keep doing that."
Featured Product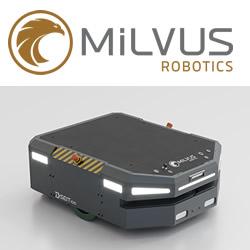 Enhance your material transport capabilities - even in the busiest warehouse or production environments - with SEIT robots. Made by Milvus Robotics, these reliable and safe AMRs efficiently move materials with no human intervention required. They work seamlessly alongside people, forklifts, and other equipment. Requiring no infrastructure, SEIT robots are suitable for a range of manufacturing environments, distribution centers and more.