Security robot market is growing rapidly and as new technologies are coming in the segment of security, it is giving fuel to this market. This market is growing with the CAGR rate of more than 8.5% currently and has been valued at US $XX billion.
Market Scenario

As countries are making their Military and defense stronger and to eliminate the serious casualty, they are demanding more of the equipments which efficient as well as removes the threat of life. This market has seen tremendous opportunities in the upcoming years and it is expected that the global market size of security robots market will reach US $XX billion by the end of forecasted period.
Market Segmentation
For the better understanding of the report, global robot security market research report has been segmented on the basis of type, application, component and geography. Type of robot security includes- UGV (unmanned ground vehicles), UAV (unmanned aerial vehicles) and UUV (unmanned underwater vehicles). Going ahead, by application, the market has been segmented as firefighting, spying, explosive detection, rescue operations, patrolling, transportation, demining and others. Components for robot security include- controller systems, frames, sensors, navigation, camera systems, power systems and others.
Regional Analysis
North America is dominating the market of Robot Security with more than 57% of market share followed by Europe region which holds near about 27% of market share. The main reason is that Countries like US, Canada are developed and government of these countries pays very high interest to their defense and military. Asia Pacific has emerged as fastest growing market for Robot Security Market.
Key players
The prominent players in the market of Robot Security are Northrop Grumman Corp, Elbit Systems, Qinetiq Group PLC, Knightscope, Inc., Finmeccanica SPA, Aerovironment, Inc, Recon Robotics, DJI, Kongsberg Gruppen, BAE Systems PLC among others.
Regional Analysis:
Americas
North America
US
Canada
- Europe
Western Europe
Germany
France
Italy
Spain
U.K
Rest of Western Europe
Eastern Europe
- Asia - Pacific
Asia
China
India
Japan
South Korea
Rest of Asia
Pacific
- The Middle East& Africa
The report for Global Robot Security Market of Market Research Future comprises of extensive primary research along with the detailed analysis of qualitative as well as quantitative aspects by various industry experts, key opinion leaders to gain the deeper insight of the market and industry performance. The report gives the clear picture of current market scenario which includes historical and projected market size in terms of value and volume, technological advancement, macro economical and governing factors in the market. The report provides details information and strategies of the top key players in the industry. The report also gives a broad study of the different market segments and regions.
Sample Research Report: https://www.marketresearchfuture.com/sample-request/global-security-robots-market-research-report-forecast-to-2027
Featured Product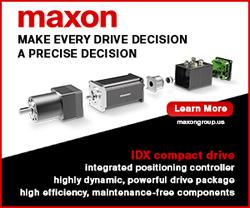 A brushless DC motor solution for use in hip and knee exoskeletons. This complete joint actuation unit consists of motor, gearhead, encoder and position controller. Fitting absolute encoder directly at the joint rotation provides designers increased positioning accuracy. The unit will deliver 54Nm of continuous torque and 120Nm on a 20% duty cycle. The system can be operated on supplies between 10 and 50V DC and the actuation speed is up to 22rpm.