TraceParts challenged its engineering community to take part in a mystery word competition
Saint-Romain, France, December 21, 2016 - TraceParts, a world-leading supplier of 3D digital content for engineering, and Item, the pioneer in building kit systems for industrial applications, teamed up to offer designers and engineers an original word hunt competition.

The game entitled #TracePartsMysteryWord started on 1st of December 2016 on TraceParts Facebook page and has now ended.
To play the #TracePartsMysteryWord game, participants had to find the mystery word and enter their answer on the TraceParts Facebook page. Over the course of the competition, several clues were left every week to help participants in their quest.
Congratulations to the winner Jerry D. who entered the mystery word 'TIME at #TracePartsMysteryWord and whose name was drawn from the list of contestants who found the mystery word during the competition. The winner will now have to choose his prize, either a Sony SmartWatch 3 or an Apple Watch Sport.
Many thanks to all of the participants too. More than 534 people took part in it!
Warmest greetings to you all and best wishes for the new year.
About TraceParts
TraceParts is one of the world's leading providers of 3D digital content for engineering. As part of the Trace Group founded in 1989, the company provides powerful web-based solutions, such as CAD part libraries, electronic catalogs and product configurators. TraceParts also provides digital marketing services to help part manufacturers, software publishers and computer hardware vendors promote their products and services and generate high-quality B2B sales leads.
The TracePartsOnline.net portal is available free-of-charge to millions of CAD users worldwide. It provides access to hundreds of supplier catalogs and more than 100 million CAD models and product data-sheets that are suited to design, purchasing, manufacturing and maintenance processes.
About Item
item is the pioneer in building kit systems for industrial applications and a global market leader. It has been designing and marketing construction solutions for machinery, fixtures and plants since 1976. Today, the item product portfolio comprises more than 3,000 high-quality components designed for use in machine bases, work benches, automation solutions and lean production applications.
Because item designs all its products in-house, you can rest assured that every component carrying the item name is an original. With branches, sales partners and a comprehensive network of service centres in 35 countries worldwide, item can offer users continuous support and rapid product availability precisely where it is needed.
Featured Product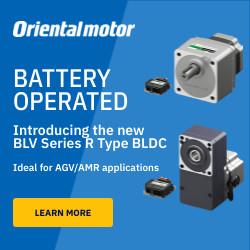 The BLE2 Series replaces our popular BLE Series and continues our brushless motor advantages by featuring an all new compact, high-power and high-efficiency brushless DC motor combined with a Driver that can be digitally set and controlled via external DC voltage or by the front panel. The BLE2 Series can easily compete with larger 3-phase inverter driven motors in many more applications, with built-in simple holding torque function, saving space and increasing performance thanks to the advantages of a brushless motor design. The BLE2 Series has a maximum speed of 4000 r/min, achieving a speed ratio of 1:50 (80 to 4000 r/min). The new motor structure is small than previous models and enables high power and high efficiency while incorporating easy setting, installation and wiring. The new motor connector offers IP66 degree of protection and allows for easy and direct connection between motor and driver with two available orientation of cable outlet direction. Standardized use of stain