The Age of the Jetsons Has Arrived, With 5e NannyBot!
WALL, N.J., Dec. 27, 2016 /PRNewswire/ -- 5e NannyBot is one of the latest innovations created by Five Elements Robotics. This robot has an integrated camera so that the parents can keep an eye on their children. The 5e NannyBot can follow the children projecting video and audio back to the parent's cell phone or computer. The parent can also drive the robot remotely to see a larger picture of the children's environment.

5e NannyBot has an optional basket accessory to hold children's toys.
Designed to inspire and connect with children, 5e NannyBot is three feet tall and very cute. The robot runs on a rechargeable battery which lasts around 8 hours.
The robot can be used indoors and outdoors (in good weather), is available with many different language options and has customizable messages that it can say to your children.
"Parents are going to love the freedom and flexibility this robot will add to their lives," says CEO Wendy Roberts.
5e NannyBot is available at www.5erobotics.com.
Media Contact: Wendy Roberts, 139228@email4pr.com, (800) 681-8514
Five Elements Robotics, the makers of Budgee®, the Friendly Robot that Follows You and Carries your Things, was founded in 2012 by Wendy Roberts. Five Elements Robotics is also the maker of DASH Retail Robotic Shopping Cart and 5e Virtual Rep. Located in Wall, NJ Five Elements Robotics is focused on developing robots for consumers and commercial applications.
Featured Product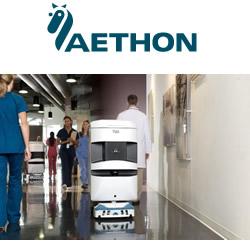 TUG automatically picks up and drops off carts, eliminating the labor that would otherwise be needed to load the robot. It also communicates with your IT system to automate the dispatching of the robot fleet and update the inventory system when materials are moved.