Partnering with Intel, MIT, and Stibo Accelerator, the robot that premiered at CES is now available for developers worldwide
San Francisco, CA - January 5, 2017 - Segway Robotics is excited to announce the launch of the first developer edition shipments of the Segway Robot, Loomo. Chosen from thousands of applicants, the initial developer partners include Intel, BMW, MIT SMART Center, and Stibo Accelerator.

First revealed at CES 2016, Segway Robot is a smart machine that can transform between a self-balancing transporter and an autonomous robot. It was designed to solve a host of real-world problems by allowing developers worldwide to build hardware and software that easily integrates with the robot to provide different functionalities. The Segway Robot Developer Program was announced at the Intel Developer Forum in Shenzhen in April 2016. Segway Robotics released the Software Development Kit (SDK) for the robot on the Android platform, opening the opportunity for roboticists and Android developers worldwide to use this SDK to enable the robot to perform new applications and to interact with other devices. Segway Robot will additionally provide a hardware extension bay allowing connection to accessories.
Out of thousands of developer applications from organizations and individuals at Google, Facebook, Ebay, and Microsoft, Segway Robotics selected the first four developer partners. The Alpha developers are not only customers but also R&D partners of Segway Robotics. Each developer will use Loomos open platform to create unique applications and use cases: BMW will focus on autonomous driving; Intel will focus on perceptual computing applications based on Intel RealSense technology that provides Loomo 3D vision capabilities; MIT will focus on using robots for medical care and elderly care in developed markets; and Stibo Accelerator will focus on consumer retail as well as consumer & enterprise safety.
"We believe the source of intelligence is innovation, and this robot is designed to be creative and innovative" said Sarah Zhang, Business Lead & Head Developer of Partnerships of Segway Robotics. "The idea of combining a personal transporter with a personal robot that will change peoples lives is what we set out to do with this project, and we are thrilled to partner with some of the worlds leading technology organizations to create a powerful computer that you can engage with in an unprecedented, three dimensional way."
Loomo can be programmed out-of-the-box to solve many complex problems with its state-of-art camera and suite of other sensors and offers cutting-edge innovation at a reasonable price. It is integrated with the latest Intel RealSense depth sensor, which will allow for different navigation applications. Loomo also hosts a wealth of additional technology and features, including interaction, connectivity, locomotion, speech, and vision capabilities.
"We are so excited about the potential of the Segway Robot platform. Alongside Segway Robotics we have created an open platform based on Intel RealSense technology that will help developers make remarkable experiences possible," said Dr. Achin Bhowmik, Vice President, New Technology Group and General Manager, Perceptual Computing Group at Intel.
Developers are expected to receive the next phase of beta kits in early 2017, with the consumer launch planned soon after.
For more information visit: www.segwayrobotics.com
To view the media kit, click here.
About Segway Robotics: Founded in 2016, Segway Robotics is a privately held company that focuses on developing and commercializing personal robots. Segway Robotics Inc is fully owned by Segway & Ninebot, a series B company. Notable backers include Sequoia Capital, Intel Capital and Xiaomi. For more information, visit our official site at http://www.segwayrobotics.com/.
Featured Product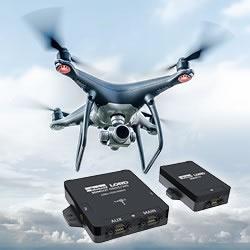 The C-series high performing inertial sensor package provides an OEM form-factor that is optimized for size and weight in Off Highway, Unmanned Ground Vehicles/Mobile Robots and Unmanned Aerial Systems. It's compact and low-profile anodized aluminum housing can be connected directly to a printed circuit board using a UART header or a Samtec FFSD ribbon cable and 2-56 fasteners.