Buildable, Programmable Robotic Car can Track and Move Along Lines, and Detect Obstacles to Avoid by Driving Around Them
LAS VEGAS--(BUSINESS WIRE)--CES - UBTECH Robotics, the company that created the cutting-edge Alpha Series of humanoid robots, today announced the U.S premiere of KarBot, the first Jimu Robot on wheels, at CES 2017. The Jimu Robot KarBot Kit is the first to offer a buildable, programmable car that can track and move along lines, as well as detect obstacles to avoid by driving around them. Using the Jimu App and Blockly coding, users can make KarBot execute an endless variety of actions. The Jimu Robot KarBot Kit retails for $129.95 and will be showcased at CES in Sands Expo, Hall A-D, booth #42151, January 5-8, 2017 in Las Vegas, Nevada.

"KarBot combines two things that kids love: cars and robots, and represents UBTECHs new direction for 2017," said John Rhee, General Manager, North America, UBTECH. "With added features, including sensors in all new products, and adding even greater mobility to the existing line of robots, UBTECH is poised to set a new standard for consumer robots in the new year."
Jimu Robot is the only Robotic Building System that anyone can easily BUILD into specific models or their own creations, PROGRAM and code to move with any smart device, and then SHARE in a Global Online Community. The Jimu Robot KarBot Kit has all the parts, connectors and servo motors needed to build three pre-designed KarBots or your own invention. The free Jimu Robot App provides easy-to-follow 3D illustrated building instructions, pre-programmed actions, Pose-Record-Play and direct-servo programming, Blockly coding to sequence your actions, and an in-App "Joystick" remote to control your Jimu Robot in real time on your smart device. The JIMU Robot app for iPhone, iPad and iPod touch is available free, exclusively on the App Store.
The Jimu Robot KarBot Kit includes:
3 Smooth Motion Robotic Servo Motors
1 Infrared Sensor
276 Snap-Together Interlocking Parts & Connectors
1 Main Control Box
1 Long Life, Quick Recharging Lithium-Ion Battery
1 Recharging Power Adaptor
Free Jimu Robot App
Jimu Robots were designed to enrich childrens lives and are appropriate for children over 8, and are especially strong for boys and girls 9-14. Jimu Robots were built from the ground up to specifically meet the needs of STEM (Science Technology, Engineering, Math) curriculum. All Jimu Robot parts are interchangeable with other Jimu sets, so after building the official models, you can create your own inventions by mixing with parts from any other set.
For more information on UBTECH and its complete line of robots, please visit ubtrobot.com.
Social Media:
Twitter: @UBTECHRobotics
Instagram: @ubtechrobotics
Facebook: facebook.com/ubtechroboticscorp
About UBTECH Robotics:
Established to provide cutting-edge technical solutions, UBTECH Robotics is a highly innovative software house, systems integrator and technology provider. The company is best known globally as the industry leader in humanoid robotics like the Alpha 1S. With its world-class robots that are interactive and enjoyable for the entire family, UBTECH Robotics allows you step away from traditional play and into a world where robots are our friends. For additional information about the company, follow UBTECH ROBOTICS on Facebook, Instagram, YouTube and at www.ubtrobot.com.
Featured Product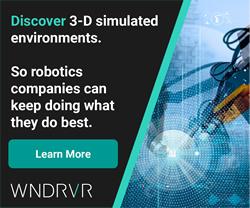 Build and deploy robust, reliable, and secure Linux-based robotic systems without the risk and development effort associated with roll-your-own (RYO) in-house efforts. With Wind River Linux get the industry's most advanced embedded Linux development platform, with a comprehensive suite of products, tools, and lifecycle services to help robotic manufacturers build the next-gen robotic systems. Your robot wants it!