Social companion technology helps older adults keep active, engaged and connected; Elli•Q to debut at prestigious exhibit at The Design Museum in London
London, UK and Ramat Gan, ISRAEL, 11 January 2017 - Intuition Robotics, a startup pioneering social companion technologies, today emerged from stealth debuting Elli•Q, an artificial intelligence-based robot companion that keeps older adults active and engaged. Elli•Q, whose design intentionally avoids the look and feel of a traditional robot, seamlessly enables older adults to use a vast array of technologies, including video chats, online games and social media to connect with families and friends and overcome the complexity of the digital world.

Elli•Q inspires participation in activities by proactively suggesting and instantly connecting older adults to digital content such as TED talks, music or audiobooks; recommending activities in the physical world like taking a walk after watching television for a prolonged period of time, keeping appointments and taking medications on time; and connecting with family through technology like chat bots linked to Facebook Messenger.
The Design Museum in London will showcase a prototype of Elli•Q as part of its 'New Old: Designing for our Future Selves exhibition, opening on January 12th, 2017. Elli•Qs pioneering design and elegant aesthetic is the product of a collaboration with famed industrial designer Yves Béhar and his studio, fuseproject.
Using "Natural Communication" such as body language that conveys emotion, speech interface, sounds, lights and images to express herself, Elli•Q is emotive, autonomous, and easily understood. Using machine learning, she learns the preferences, behavior and personality of her owner, and proactively recommends activities based on that history and recommendations by family.
"Our goal is to leverage a combination of our proprietary technology, emotive interaction models and gerontology insights with elegant design to empower older adults to intuitively interact with technology and easily connect with content and loved ones, and pursue an active lifestyle," says Dor Skuler, CEO and Founder of Intuition Robotics. "We like to think of her as part communication coordinator, part facilitator of lifelong learning and part coach. Shes easy to talk to, intuitive to operate and understands her owner."
According to UCSF, 43% of older adults report feeling lonely and 1 in 2 women aged 75+ live alone. Senior isolation negatively affects physical and mental health and contributes to cognitive decline, increasing the risk of Alzheimers and mortality. Keeping older adults both physically and mentally active has incredible health benefits, including higher levels of functional health and better cognitive function. Older adults living in isolation increasingly rely on technology rather than face-to-face interaction, yet they often find the technology confounding. According to Pew, 77% of seniors say they need help using new technologies.
Elli•Qs innovative design was created in collaboration with Yves Béhar, founder and principal designer of the award-winning industrial design firm fuseproject. It is comprised of two separate elements: Elli•Q, the social director, exhibits human characteristics through gestures animated by movement, speech, sounds and light. An LED lighting display, along with a wide range of motions are utilized to convey subtle emotional expressions and give the device a friendly and warm personification. The second element consists of a separate screen that functions in a cradle display or in the users hand to view content in the location of their choice.
"The idea of having a robot companion is quite dystopian, especially for older generations. Through years of research, we were able to develop a design language and user experience that feels natural, with subtle expressions to develop a unique bond between Elli•Q and its owner. Elli•Q could never replace human interaction, but it can be an important motivating factor in keeping older adults healthy and active when living alone," says Yves Béhar, CEO and Chief Designer at Fuseproject.
Intuition Robotics will be starting a trial phase in the homes of older adults in the Bay Area, February 2017.
About Intuition Robotics
Intuition Robotics™ is developing social companion technology to positively impact the lives of millions of older adults by connecting them seamlessly with family and friends, making technology accessible and intuitive, and proactively promoting an active lifestyle. The company was founded by former corporate executives and entrepreneurs who previously founded and managed CloudBand, a disruptive cloud telecom venture within Alcatel-Lucent. The founders created Intuition Robotics to pursue their passion for creating technology and products to improve people's quality of life.
The company's multidisciplinary team of roboticists, industrial designers, full stack developers, Android developers, gerontologists, and machine learning experts, is currently developing Elli•Q, the Active Aging Companion. Helping the company achieve its vision are iconic thinkers in the realms of industrial design and user-centered design, including famed designer Yves Béhar, former VP of Advanced Technologies at Apple Prof. Don Norman, along with Intel SVP Amir Faintuch, and leading academic experts in the fields of Cognitive Computing, HRI, Machine Intelligence, and Robotics.
###
Featured Product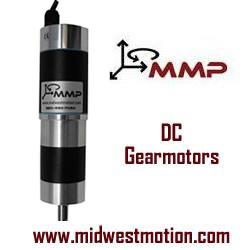 Midwest Motion Products, Inc. (MMP), is a well-established, healthy, & growing Family Owned Business, founded in 2001. MMP specializes in cost-effective standard DC Gearmotors, Motors, Controls, and ancillary equipment. Known world-wide for our "Lightning Fast" delivery capabilities, you can have a Standard Planetary or Right Angled DC Gearmotor BUILT and SHIPPED, often on the very same day you call. Offering Brushed and Brushless designs, with winding voltages ranging from 12 VDC to 120 VDC, we can deliver your "Robust & Reliable" samples within HOURS, instead of weeks, or even months.