Robot Helps Retailers Make More Strategic, Money-Saving Inventory Management Decisions
BEAVERTON, Ore. and NEW YORK, Jan. 12, 2017 /PRNewswire/ -- NRF Booth #4402 -- Digimarc Corporation (NASDAQ: DMRC) and Bossa Nova Robotics today announced that they are collaborating on next-generation retail solutions for more efficient inventory management. Digimarc technology is now integrated into Bossa Nova's retail robots, allowing them to quickly and accurately scan products that have been enhanced with Digimarc Barcode. This collaboration enables retailers to reduce out-of-stocks and better manage store inventory levels by using real-time data for task management and planogram planning on the retail floor.

Bossa Nova's robots autonomously scan store shelves for out-of-stock products, planogram compliance and correct pricing. By reading a Digimarc Barcode, Bossa Nova robots provide retailers with time-sensitive data to help them make real-time, fact-based decisions to prevent product shortages and practice Just-in-Time (JIT) inventory management to increase efficiencies. Data from Bossa Nova seamlessly integrates with existing inventory management systems, so as to not disrupt inventory protocols. In addition, the robots operate collaboratively alongside store employees and can safely maneuver around customers, allowing inventory management to continue unabated during operating hours. This collaboration enables Bossa Nova to use Digimarc Barcode-enabled shelf labels as part of its Planogram compliance solution.
Digimarc Barcodes contain the same Global Trade Item Number (GTIN) information found in traditional UPC/EAN symbols, but are imperceptible to the human eye, and repeated across the entire packaging surface, significantly increasing the speed and accuracy of inventory scanning.
"Through robotics, computer vision and deep learning, Bossa Nova's data is bringing tremendous inventory efficiency improvements to retail stores," said Martin Hitch, CEO of Bossa Nova Robotics. "Digimarc Barcode is a disruptive technology that will replace visible barcodes and simplify the way we identify products on shelf. Retailers and suppliers are guaranteed accurate inventory information at scale and unprecedented visibility into merchandising performance. Digimarc is an integral part of progressive retail operations, and we are excited to partner with them in delivering the foundation of the store of the future."
Along with inventory management, Digimarc Barcode offers benefits along the value chain, including improved supply-chain management and in-store customer engagement. Digimarc Barcode gives brands the opportunity to enhance their packaging with additional content that can be scanned by customers using their smartphones. In addition, the most commonly-used POS scanners read Digimarc Barcode, helping retailers improve front-of-store efficiency and boosting ROI.
"A new vision for future retailing is taking shape, using automation to improve store efficiency, information transparency, and customer satisfaction," said Sean Calhoon, Vice President of Product Management at Digimarc. "Bossa Nova Robotics is a key part of that vision. By reading Digimarc Barcodes on product packaging, their robots will be far more effective helping stores improve their shelf stocking and inventory management."
Digimarc's collaboration with Bossa Nova is another example of the company's ongoing integration into every stage of "the package journey" through its partnerships with design and pre-press companies, POS manufacturers, system integrators, as well as the company's collaboration with GS1 US and GS1 Germany to support information standards across the industry. See Bossa Nova at NRF at Digimarc's booth #4402.
Learn more about the Digimarc Barcode and how it is changing the retail experience at https://www.digimarc.com/products/discover/barcode.
About Digimarc
Digimarc Corporation (NASDAQ: DMRC), based in Beaverton, Oregon, is the inventor of Digimarc Discover® software and the imperceptible Digimarc Barcode for automatically identifying and interacting with virtually any media. Digimarc Discover software enables industrial scanners, smartphones, tablets and other computer interfaces to reliably, efficiently and economically identify traditional barcoded items, along with many other media objects. Digimarc Barcodes are imperceptible to people and do all that visible barcodes do, but perform better. These remarkable capabilities have allowed Digimarc and its business partners to supply a wide range of patented consumer engagement, media management and security solutions across multiple consumer and government industry sectors. Digimarc owns an extensive intellectual property portfolio, with patents in digital watermarking, content identification and management, media object discovery, and intuitive computing more generally. For more information and the latest news, please visit www.digimarc.com and follow on Twitter at @Digimarc.
About Bossa Nova Robotics
Located in San Francisco and Pittsburgh, Bossa Nova empowers retailers to make educated and informed inventory decisions by collecting and analyzing terabytes of data about consumer products in the store. Bossa Nova's robots provide fast inventory analysis helping retailers to optimize task planning and their employees to more effectively stock shelves. With a multi-disciplinary team of robot, computer vision, machine learning, and big data scientists, Bossa Nova has solved the challenges to deploy fully autonomous robots in populated environments. For more information, please visit www.bossanova.com.
Featured Product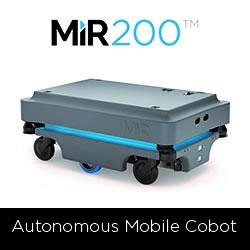 MiR200 is a safe, cost-effective mobile robot that automates your internal transportation. The robot optimizes workflows, freeing staff resources so you can increase productivity and reduce costs. MiR200 safely maneuvers around people and obstacles, through doorways and in and out of lifts. You can download CAD files of the building directly to the robot, or program it with the simple, web-based interface that requires no prior programming experience. With its fast implementation, the robots offers a fast ROI, with payback in as little as a year.