At 2017 North American International Auto Show, Detroit leaders kick off activities welcoming STEM nonprofit to the Motor City
MANCHESTER, N.H.--(BUSINESS WIRE)--FIRST®, an international, K-12 not-for-profit founded to inspire young people's interest and participation in science and technology, rallied support for STEM education in Detroit today through an event at the 2017 North American International Auto Show. Gov. Rick Snyder and Ken Morris, vice president of product integrity at General Motors, welcomed FIRST founder Dean Kamen to Detroit; FIRST will bring its international FIRST Championship event - a global robotics competition and celebration of STEM - to the city in 2018, and will return each year until at least 2020.

FIRST Celebrates Championship Event's 2018 Arrival in Detroit with Michigan Gov. Rick Snyder and General Motors
Tweet this
"FIRST is an outstanding program that is helping to equip the next generation of innovators with the skills needed to build our nation's future," Snyder said. "The state of Michigan will continue to be a strong supporter of FIRST as we get ready to host the FIRST Championship here in Detroit, and we're excited that our talented FIRST students will have an opportunity to compete on a world stage in their home state. We're also looking forward to welcoming visitors from around the world to Detroit and giving them a chance to see the city's comeback for themselves."
FIRST Championship Detroit is a thrilling four-day competition and expo where more than 30,000 attendees will cheer on students ages 6-18 as they participate in game-format challenges with their custom-built robots. As a hub for STEM innovation, thanks in large part to the automotive industry, Detroit is well-positioned to host this global event beginning in 2018. The 2018 event will take place April 25-28 with activities at both Cobo Center and Ford Field. There are currently 60 FIRST teams in the city Detroit and nearly 1700 in the state of Michigan. Historically, FIRST Championship has made a $30 million economic impact on its host city.*
At today's event, Larry Alexander president and CEO of Detroit Metro Convention & Visitors Bureau invited Gov. Snyder, Morris, and Kamen to the stage to address a crowd of nearly 300 people about the impact of FIRST on the city.
"[Our support of FIRST] is not a donation. It is an investment in our future," said Morris. "It's crucial to our success, and that of the auto industry - locally and across the country - to attract more STEM-focused students to our workforce in the years to come. That's why we at GM encourage and challenge our colleagues in this industry, whether other OEMs or suppliers from all tiers, to support FIRST."
FIRST is passionate about fostering students' interest in STEM fields and providing them access to resources and professional mentors. This is especially important as STEM occupations continue to grow 1.7 times faster than non-STEM careers. FIRST alumni are twice as likely to major in STEM, more than 85 percent express more interest in doing well in school and going to college, and over 75 percent are in STEM professions or higher education program.
"We are thrilled to be bringing FIRST Championship to Detroit," said Kamen. "As a leader in the engineering and technology fields, Detroit is the perfect incubator for our students - the FIRST teams in the Greater Detroit area know this well - and we're extremely grateful to the city and its leaders for welcoming us with open arms."
*Based on 2016 FIRST Championship St. Louis data
About FIRST®
Accomplished inventor Dean Kamen founded FIRST® (For Inspiration and Recognition of Science and Technology) in 1989 to inspire an appreciation of science and technology in young people. Based in Manchester, N.H., FIRST designs accessible, innovative programs to build self-confidence, knowledge, and life skills while motivating young people to pursue opportunities in science, technology, and engineering. With support from over 200 of the Fortune 500 companies and more than $50 million in college scholarships, the not-for-profit organization hosts the FIRST® Robotics Competition for students in Grades 9-12;FIRST® Tech Challenge for Grades 7-12; FIRST® LEGO® League for Grades 4-8; and FIRST® LEGO® League Jr. for Grades K-4. Gracious Professionalism® is a way of doing things that encourages high-quality work, emphasizes the value of others, and respects individuals and the community. To learn more about FIRST, go to www.firstinspires.org.
Featured Product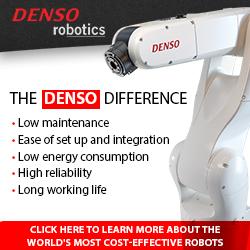 DENSO is the world's largest manufacturer - and user - of small assembly robots, employing over 17,000 of its robots in its own facilities. Over 77,000 additional DENSO robots are used by other companies worldwide. The compact, high-speed robots are used in traditional manufacturing sectors, as well as in advanced-technology applications in the medical, pharmaceutical and life sciences industries. Learn more about DENSO Robotics