Mouser Electronics and Grant Imahara launch the final video episode from the Project First Responders series. This new video explores the advantages of launching multiple drones in public safety operations. To see the video and more from the Empowering Innovation Together program, visit www.mouser.com/empowering-innovation.
DALLAS & FORT WORTH, Texas--(BUSINESS WIRE)--Mouser Electronics Inc., along with Easy Aerial Inc. and celebrity engineer Grant Imahara, today launched the final episode of the unique project from the latest series in the Empowering Innovation Together™ program. Project First Responders showcases the proof of concept for an autonomous, cloud-based drone platform used for search and rescue or surveillance operations during public safety emergencies such as wildfires, hurricanes, and earthquakes. The drone project was developed in the Mouser Innovation Lab with help from sponsors TE Connectivity and from Intel® and led by engineers Grant Imahara and Ivan Stamatovski.

In the final episode, Mouser presents a real-world example of drones potentially life-saving capabilities in a wildfire scenario. In the example, a deployed drone network provides key data to first responders, such as wind speed and direction, fuel types around existing fires, and the locations of trapped civilians. The episode also showcases how a search-and-rescue drone program might work, from drone selection to launch to returning highly specific data.
"Mousers Empowering Innovation Together program is designed to foster innovation by empowering engineers of all levels to unleash their genius," said Glenn Smith, President and CEO of Mouser Electronics. "Its exciting to see the program help develop new technology, especially innovations that can save lives."
"This project shows the power that drones can have when working in disaster situations to both keep first responders safe and save the lives of people caught in the chaos of the event," said Grant Imahara. "Drones like the ones used in this project can hold a myriad of sensors that tell first responders when it is safe to enter an area and when to use thermal and high definition cameras to find people and direct coordinates to rescuers on the ground, as well as share information with experts across the globe for better decision making."
In previous videos, Mouser and Easy Aerial focused on building the proof of concept by using GlobalARC to create a custom peer-to-peer communications platform, allowing one or multiple people to control one or multiple drones. The team also addressed logistical hurdles such as having drones available when needed, ensuring and maintaining communications between cell towers and drones during a natural disaster, and providing essential security levels for different users or government agencies.
To learn more about Mouser's Empowering Innovation Together series — featuring new projects like 3D-printing cars with drone launching technology — visit http://www.mouser.com/empowering-innovation. To watch the new video on Mousers YouTube channel, visit https://youtu.be/VM6MsaBVdmo.
About Mouser Electronics
Mouser Electronics, a subsidiary of TTI, Inc., is part of Warren Buffett's Berkshire Hathaway family of companies. Mouser is an award-winning, authorized semiconductor and electronic component distributor focused on rapid New Product Introductions from its manufacturing partners for electronic design engineers and buyers. The global distributor's website, Mouser.com, is available in multiple languages and currencies and features more than 4 million products from more than 600 manufacturers. Mouser offers 22 support locations around the world to provide best-in-class customer service and ships globally to over 500,000 customers in 170 countries from its 750,000 sq. ft. state-of-the-art facility south of Dallas, Texas. For more information, visit www.mouser.com.
About Grant Imahara
Well known in the engineering community, Grant Imahara has paired his engineering expertise with a Hollywood TV and film career. In addition to his roles on MythBusters and BattleBots, Imahara is the inventor behind many famous robotic characters, including the Star Wars prequel-era R2-D2, talking robot sidekick Geoff Peterson from The Late Late Show with Craig Ferguson, and the rhythmic arms on the modern-day Energizer Bunny.
About GlobalARC
GlobalARC is a full service UAV deployment and management system with built-in airspace compliance and live video feed from drones. It was built by Easy Aerial for professionals looking to manage their fleets and engage in commercial UAV operations. GlobalARC enables companies and service providers to integrate UAV operations into their day-to-day activities and quickly scale while automatically complying with current rules and regulations. To learn more, visit www.globalarc.us.
Featured Product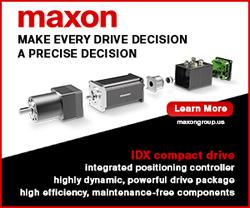 A brushless DC motor solution for use in hip and knee exoskeletons. This complete joint actuation unit consists of motor, gearhead, encoder and position controller. Fitting absolute encoder directly at the joint rotation provides designers increased positioning accuracy. The unit will deliver 54Nm of continuous torque and 120Nm on a 20% duty cycle. The system can be operated on supplies between 10 and 50V DC and the actuation speed is up to 22rpm.