Winners of global virtual hackathon announced
SAN FRANCISCO and NEW YORK, Jan. 24, 2017 /PRNewswire/ -- Kandy, GENBAND's award-winning communications Platform-as-a-Service (cPaaS), today announced the results of its Invent the Future hackathon. Hosted on the online global community Collaborizm, the hackathon challenged developers around the world to combine Kandy's real-time communications API and developer platform with the myDevices IoT project builder, Cayenne, to build innovative new projects.

"Kandy has always been about adding the human element of contextual communications to workflows and we had high expectations for the results of this hackathon," said Paul Pluschkell, Kandy founder and CEO. "With 31 teams and more than 250 participants, we weren't disappointed! The range and level of innovation was truly impressive and I want to thank every single developer, mentor and judge who participated. This is just the beginning."
After evaluating the entries according to a number of criteria including creativity and outside of the box thinking, unique ways to leverage real-time communications with hardware and a clear demonstration of how the IoT and RTC will soon be combined on a broad scale, the three selected winners were:
1st place - Kandybot, an Internet-controlled multi-purpose robot- Video demo
2nd place - Homebot, which enables people to connect to their home via Kandy and their smartphone- Video demo
3rd place - NextGenMonitoring, a temperature and humidity monitoring system for home or industry.
"This was a great hackathon, bringing entrepreneurs worldwide together to develop innovative solutions from IoT, Machine Learning, Video and many other domains all with a common theme of real time communications, powered by Kandy," said Akshay Sharma independent analyst, and former smartphone CTO.
"The Pajama Hackathon has restored my faith that all science fiction eventually becomes reality. As a judge I saw individuals from across the globe collaborating, creating and innovating new products and services I would not have thought possible a few years ago; robots controlled remotely with the flick of your head, agriculture and communications automation, simply incredible. I was honored to be part of it," added Thom Jordan, CEO, Ping Mobile.
The winning entries can all be found on the Collaborizm website.
About Kandy
GENBAND's Kandy communications Platform-as-a-Service (cPaaS) is a real time software development platform built from GENBAND's core communications, presence, security and real time technologies. Kandy enables service providers, enterprises, software vendors, systems integrators, partners and developers to enrich their applications and services with real time contextual communications, providing a more engaging user experience. With Kandy, companies of all sizes and types can quickly embed real time communications capabilities into their existing applications and business processes. For more information visit kandy.io.
About GENBAND
GENBAND is a global leader in real-time communications software solutions for service providers, enterprises, independent software vendors, systems integrators and developers in over 80 countries. Kandy, its award-winning, disruptive real-time communications software development platform, is built from the company's global telecommunications network and security technologies. The platform enables these companies to easily embed a full suite of voice, video, chat, screen-sharing and collaboration capabilities into their existing business, web and mobile applications. The company's Network Modernization, Unified Communications, Mobility and Embedded Communications solutions enable its customers to quickly capitalize on growing market segments and introduce differentiating products, applications and services. GENBAND's market-leading solutions, which are deployable in the network, on premise or through the cloud, help its customers connect people to each other and address the growing demands of today's consumers and businesses for real-time communications wherever they happen to be. To learn more visit genband.com.
GENBAND, the GENBAND logo and icon are trademarks of GENBAND.
About myDevices
myDevices, an IoT solutions company, is the creator of Cayenne, the world's first drag-and-drop IoT Project Builder, which enables customers to bring their IoT projects from prototype to mass production. The company also hosts a vibrant online community of IoT developers where users collaborate and share information. myDevices' connectivity and device-agnostic technology empowers engineers and enterprise partners to easily develop and deploy IoT solutions into their existing infrastructure and business. myDevices is headquartered in Los Angeles, CA. For more information please visit www.myDevices.com.
About Collaborizm
Our mission is to build a vibrant collaboration community where makers, innovators and creatives can network, share knowledge and inspire one another by working together across different geographies.
Long term we set out to create a virtual workspace that will dramatically enhance human creative output, and break down the significant skill and cultural barriers that exist in the world today through a unique collaborative process.
Featured Product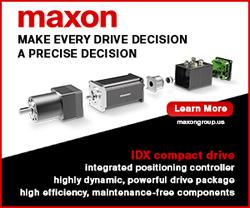 Discover the world of drive technology from a leading worldwide supplier of innovative customized drives. - Manufacturer of brushed and brushless DC motors, gearheads and motion controllers - Custom drive systems, quantities as low as a single unit - Certified for aerospace and medical applications